Shillong, Jun 23: Even heavy rain could not dampen the enthusiasm of the children taking part in the third day of the Meghalaya Baby League (MBL) 2018 here today, with Kickstart FCC Rhinos, Langsning Greenergy Lions and Wahlakhiat Bulls all big winners.
Fifteen matches were held at three venues – Third Ground, the JN Stadium and the Futsal Ground – at the JN Sports Complex in Polo Ground.
MBL 2018 is the joint initiative of Tata Trusts, the Meghalaya Football Association and All India Football Federation.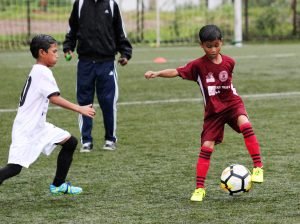 The action began between Eugeneson Lyngdoh's ENE Falcons going up against the Rhinos, with the latter winning four out of the five age-group matches. The Falcons' lone win came in the 6-7 years group (7-2 was the result), but that proved to be the outlier. Febian Sohtun (4-5 years) and Jefferson Malngiang (10-11 years) scored four goals each for Kickstart in their respective matches.
In the other games, Wahlakhiat Bulls also won four out of five games against Nongtrai Cheetahs, with the latter, like ENE, winning only the 6-7 years group match.
Finally, the Greenergy Lions of Langsning eclipsed Mawlatbah SC Hawks by claiming victory in all five of their fixtures.
Some of these matches were very one-sided, but, even then, the Hawks had something to cheer about. Their goalkeeper in the 4-5 match, in particular, won the hearts not just of his family and friends, but even those of the opposition as he was excellent in the first half. The scoreline at the end did read 10-0 in favour of Langsning, but the little goalie prevented the margin of defeat from being even heavier with his lovely saves that won him cheers and much applause.
(Photos contributed by the Meghalaya Football Association)