Shillong, Oct 15: Malki's Joseph Seun became the first player of any club to score a hat-trick in this season's Shillong Premier League as his side breezed to a 5-1 victory over Sawmer at the SSA Stadium to take Malki to fourth place and into the playoffs.
Prior to this game Malki needed at least a point to avoid relegation or a win to take them to the playoffs. Victory means that Nangkiew Irat have been dropped into fifth position and Meghalaya Police will be relegated to the First Division next year. Sawmer couldn't have avoided relegation even if they had won today.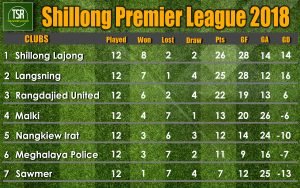 Apart from Seun's first, Malki recorded a team first in that they scored twice in the opening 10 minutes of the match, a feat no other side has done this season.
Marlangki Suting, Primrose Lamat and Seun produced some good combination play that led to the opening goal in the fifth minute, which saw the tall Seun burst through the defensive line and shoot past Sawmer goalkeeper Sunshine Kharmuti.
Later Seun was fouled in the box, leading to a penalty, which was converted by Ousseynou Kamara in the eighth minute.
U-18 player Macmillan Mukhim then almost got himself on the scoresheet, but his header off a cross went into the upright.
After that saw Sawmer fight back strongly and they bagged their lone goal in the 21st minute when Gamelial Kharlyngdoh received a pass on the edge of the box and in one fluid motion swivelled and fired it into the back of the net past a diving Guidle Syiemlieh, Malki's custodian.
The sensational goal, arguably one of the best of the season, takes Kharlyngdoh to joint top scorer (along with Shillong Lajong's Phrangki Buam) this season with six goals.
Sawmer continued to apply pressure, but Syiemlieh was up to the mark, pulling off an incredible leaping save to put out a long-range shot by Kuparfill Umdor in the 28th minute.
Early in the second half Malki restored their two-goal margin when Dennelson Pyngrope provided a cross that Seun had to tap in from the six-yard box in the 49th minute.
Then in the 62nd minute Malki earned a double corner. The first one saw Seun's header saved by a diving Kharmuti, but the second saw the No. 44 head into the net. Bowari Khongstia provided the corner kick.
Syiemlieh was kept busy at the other end of the pitch, having to make a couple of quick saves to deny Sawmer in the 65th minute, but it would be Malki who struck one final time, deep in stoppage time, when Ronnie Nongbri blasted a left-footer into the back of the net.
The SPL will now move into the playoffs. The top two teams – Shillong Lajong and Langsning – will meet in the 1st Qualifier on 18th October at 3:30PM.
(Photo contributed by Malki SC. Malki are in blue, Sawmer in red)