Shillong, Feb 14: Two more Meghalayan footballers – Wankiboklin Marwein and Lionel Daryl Rymmei – are in consideration for Indian national age group team selection, TSR has learnt.
Their inclusion in national camps comes after it was announced that Samuel Lyngdoh Kynshi has been included in the India U-23 probables list.
Marwein, a 14-year-old forward, is a student of Ved Vigyan Maha Vidyapeeth (VVMV) in Bangalore and he has been summoned by the All India Football Federation for trials for the U-15 national team.
VVMV is a school supported by Sri Sri Ravi Shankar's Art of Living Foundation for orphans and children of single mothers based on their football skills. The school team, almost completely made up of Meghalaya players, took part in the recent Reliance Foundation Youth Sports tournament and Marwein was crucial in his team's 2-2 draw with St Anthony's of Shillong in the national round of the junior boys (Class 7-10) category in Navi Mumbai.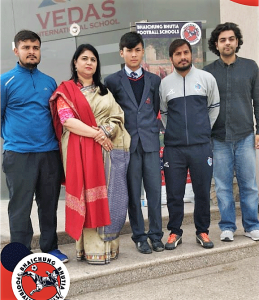 Meanwhile, Bhaichung Bhutia Football Schools announced on social media that Rymmei, a residential academy student of theirs, has been selected to join the India U-16 camp to be held in Odisha.
The coming of the Reliance tournament, which has given youth the opportunity to play plenty of matches over several weeks, looks like its paying dividends in terms of developing the sport and scouts from the AIFF, ISL and other clubs certainly look interested in the players coming out of the competition.
(Photos: Reliance Foundation Youth Sports/Bhaichung Bhutia Football Schools/Facebook)