Shillong, Aug 30: Mawlai moved from fifth to second place in the First Division with a 2-1 win over Meghalaya Police at the JN Stadium here today.
Mawlai took the lead after a cross into the box was headed away by a cop but fell to P Marngar, who smashed in a goal from the penalty arc in the 27th minute.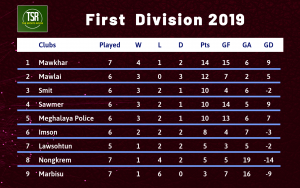 Although the Mawlai goalkeeper made a couple of solid saves, his biggest mistake led to the equaliser when he carried the ball outside his own penalty box, leading to a free-kick, which was converted by Niwan-o Gatphoh in the 31st minute.
A lovely cross from the left in the second half then saw the unmarked Oversharp Iawphniaw execute a simple tap-in to restore Mawlai's lead in the 71st minute.
Mawlai are the only team still unbeaten, having won three and drawn three of their six matches.
Tomorrow Imson are scheduled to face Smit at 3:15PM.
(TSR photo. Mawlai are in yellow)