Shillong, Dec 27: Bowlers of both Meghalaya and Arunachal Pradesh had plenty to rejoice over as 14 wickets fell on the first day of the two states' U-19 Cooch Behar Trophy match in Bhubaneshwar today.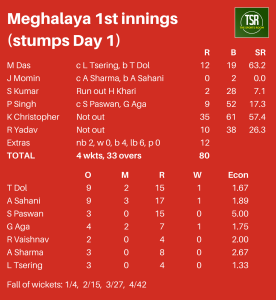 Arunachal, the top team in the Plate Group, won the toss and had no hesitation in batting first. However, although several players got starts, big partnerships were difficult to come by as Meghalaya kept chipping away with wickets at regular intervals.
Manish Sharma (3/42) and Purav Agarwal (3/73), two of Meghalaya's most successful bowlers this season, took three wickets apiece while opening bowler PM Santhosh (2/41) chipped in with a couple of his own.
Arunachal's saving grace came in the form of Amarjeet Sharma, who carefully crafted and unbeaten 112, which came off 160 deliveries. Thanks to him, his team were able to get to 218 all out but much credit also has to go to Number 11 Gollo Aga, who held off Meghalaya for 34 deliveries as he and Amarjeet put on 60 for the last wicket to take Arunachal from 158/9 to 218. Aga contributed 9 runs in all but his heroic resistance allowed Amarjeet to score at the other end.
By stumps on the first day, Meghalaya had reached 80/4, trailing their opponents by 138. The four wickets fell for just 42 on the scoreboard but then came Meghalaya's stalwart batter and captain Kevin Christopher, who finished the day on 35 not out. For company, the skipper has Rohit Yadav, who is on 10 not out.
With three centuries and one fifty in the previous four matches, Christopher is number seven in the list of run getters this season in the Cooch Behar Trophy and Meghalaya will look to him to deliver another big innings.