Shillong, Mar 17: The Shillong Sports Association has postponed the start of the First Division by exactly one week.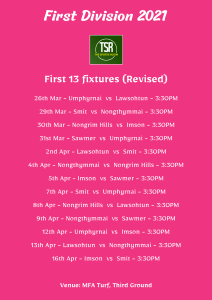 Instead of beginning this Saturday, the league will start next Saturday, that is 26th March. Kick-off for the first 13 matches has also been pushed back to 3:30PM.
The venue – Third Ground in Polo – remains the same. The order of matches also doesn't change.
In a release, the SSA said that the delay is due to minor repairs that will be carried out by the Meghalaya Football Association, who run the ground.
Only seven teams will be taking part in the First Division this season. There were nine teams that took part in 2019 and 10 in 2018.
The two teams that should be playing this season but have dropped out are Laban (relegated from the 2019 edition of the Shillong Premier League) and Meghalaya Police.
Umphyrnai and Nongthymmai have been promoted to the First Division this season. Nongrim Hills have been dropped down to the First Division after finishing second-last (just in front of Laban) in the 2019 SPL.
The other participants are Imson, Lawsohtun, Smit and Sawmer.
With just seven competing teams playing each other once, there will be just 21 matches in all in the league this season.
(TSR representative photo)