Shillong, Sep 26: East Khasi Hills finished at the top of the medals table at the Meghalaya State Judo Championship, with Eastern West Khasi Hills finishing a strong second.
The event took place on 23rd and 24th September at the Sports Authority of India Centre at NEHU here.
The championship also acts as the selection trials for the North East Olympic Games, which will take place in Shillong in November.
There were 107 judokas who took part from seven districts of Meghalaya.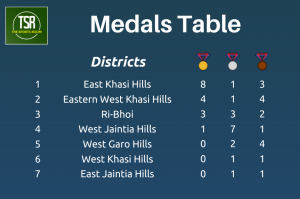 Full results:
Boys below 40kg – Jefi Lyngdoh (EWKH) gold, Nill Debbarma (Ri-Bhoi) silver, Bisu Debbarma (EKH) bronze
Boys below 45kg – Prem Chettri (EWKH) gold, Pherki Dhar (WJH) silver, Jackson Kharmuti (Ri-Bhoi) bronze
Boys below 50kg – Gobi G Momin (EKH) gold, Cheerful Susngi (WJH) silver, Dharamvir Sharma (Ri-Bhoi) bronze
Boys below 55kg – Aric Lyngdoh (EWKH) gold, Player Dhar (WJH) silver, Oshomcare M Sangma (WGH) bronze
Boys below 60kg – Aditya Thapa (Ri-Bhoi) gold, Sahil Khan (EKH) silver, Kevinstar Dkhar (WJH) bronze
Boys below 66kg – Nangiaid Pyrtuh (WJH) gold, Jakrik M Sangma (WGH) silver, Bicker A Sangma (WGH) bronze
Boys below 73kg – Victor Deb (EKH) gold, Daohi Shylla (WJH) silver, Dikomar Lyngdoh (EWKH) bronze
Boys above 73kg – Aman Koch (EKH) gold, Epilson Sangma (WGH) silver, Niksengbirth A Sangma (WGH) bronze
Girls below 34kg – Ibarisha Marwein (EKH) gold, Naki Wahlang (Ri-Bhoi) silver, Pdianghun Nongkhlaw (WKH) bronze
Girls below 40kg – Beauty Mawlein (EKH) gold, Sophinia Kharshyndon (Ri-Bhoi) silver, Shilpa Rajbongshi (EWKH) bronze
Girls below 44kg – Realigcae Suting (Ri-Bhoi) gold, Daimond Susngi (WKH) silver, Larisha Lyngdoh Nonglait (EKH) bronze
Girls below 48kg – Basuklin Jasain (EKH) gold, Albricia Shadong (WJH) silver, Riboshisha Lyngdoh (EWKH)
Girls below 52kg – Rishica Iawred (EKH) gold, Kheinkor Padit (WJH) silver, Banrikynti Lyngdoh (EWKH)
Girls below 57kg – Preaty Mawlein (EKH) gold, Wandahun Thabah (EWKH) silver, Kongka Paswet (EJH) bronze
Girls below 63kg – F Daimary (Ri-Bhoi) gold, Sandani Dai Mary (EJH) silver, Teshechi Sangma (WGH) bronze
Girls above 63kg – Rajika Boro (EWKH) gold, Soktina Ponti (WJH) silver, Banrikynti Lyngdoh (EKH)
(Photo contributed)