Shillong, Oct 8: Meghalaya lost their last Group B match in the Women's U-19 T20 Trophy by 10 wickets to mighty Delhi today in Hyderabad.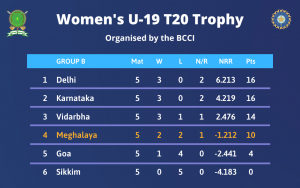 Delhi needed a big win to secure first place in the group and qualify for the next round and they got just what they wanted.
Meghalaya won the toss and chose to bat first against the leaders but were skittled by the much stronger opposition for 24 in 12 overs.
Delhi then chased down the target in just 2.3 overs for no loss.
Meghalaya thus ended their campaign in fourth place with two wins to celebrate against the lower positioned Goa and Sikkim.