Shillong, Apr 12: The Shillong Sports Association will institute a change in the rules of the Shillong Premier League this season which will give talented players in the lower divisions an opportunity to take part.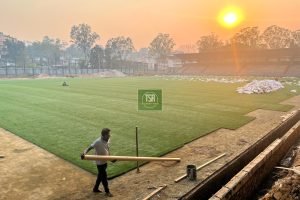 This year, each of the eight SPL clubs can sign five players on loan from clubs playing in the lower leagues. Until now, players could not move between leagues during an ongoing season. However, the SSA has noted that there are many talented footballers playing in the lower divisions who may have gone unspotted by the SPL clubs and they should be given the opportunity to play at a higher level on loan during the second leg of the SPL.
The SPL this year will begin only in September, after all the other SSA tournaments.
The SPL will also not make it mandatory for clubs to field at least one U-18 player in the starting XI. This rule had been tried in the past until 2019 but wasn't found to have the desired effect as teams would pull out their U-18 player as quickly as possible.
Meanwhile, at a press briefing at the SSA office today, the association informed that 52 players have so far completed the formalities for inter-club transfers but many more are expected to do so by the last day, which is this Saturday.
The briefing was attended by senior SSA officials SS Rapthap, Dipshon Lyngdoh Nongbri, Shongdor M Lyngdoh, Dister Marbaniang and Bishar Warkhyllew.
The SSA has already begun its grassroots tournaments for U-10 and U-14 boys and will hold the second edition of its Women's League later this month. This will then be followed by the U-20 Fourth Division in May, Third Division in June, Second Division in July and First Division in August.
The marquee SPL will begin the following month, with the Meghalaya Invitation Football Tournament, which hasn't been held since 2016, to be reintroduced after that.
As much as possible, the SSA will host these tournaments at its own stadium at First Ground. The stadium is currently having a new artificial turf put in. One section of stands is also being constructed.
It was also informed that the SSA has taken pride in the success of its maiden Women's League last year, with many of the players involved going on to represent teams in other states. Lyngdoh Nongbri also noted that all of the Meghalaya state team players who finished as runners-up in the national Santosh Trophy recently played in the SPL and the association plans on felicitating them soon.
Also present at the briefing was experienced referee Ricky Marshall Synnah, who informed that the SSA, in collaboration with the Shillong Referees Society, held a two-day clinic recently in which 110 referees took part. The annual clinic included theory and practical sessions with a focus on new laws. Referee fitness will be looked at separately soon as well.
(TSR photos)