Shillong, May 16: Shillong Lajong FC dropped from first to third place in the All India Football Federation's Second Division League final round after a brutal 5-1 loss to Ambernath United in Mumbai today.
The other fixture today saw Delhi FC move up to second place by defeating United SC of Kolkata 3-2.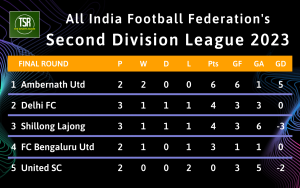 Lajong had defeated United SC of Kolkata in their final round opener at home on 6th May before taking a point against Delhi FC in Chandigarh on 11th May.
Today, Lajong coach Bobby Lyngdoh Nongbet made two changes, bringing in Sambor Kharsahnoh and Babysunday Marngar in place of Ronney Wilson Kharbudon and Figo Syndai.
The Reds conceded twice in the first half – through Arif Shaikh in the 22nd minute and Adil Khan in the 44th – and responded with a substitution after each goal – bringing on Hamedamanbha Wahlang in place of Ronaldkydon Lyngdoh Nonglait in the 25th minute and Pynche Tyngkan for Kharsahnoh in stoppage time.
At the start of the second half, Nongbet brought on Syndai in place of Marngar but Lajong conceded once again (Shravan Shetty in the 56th) before Hardy Cliff Nongbri finally netted one for the Shillong side in the 67th minute.
Ambernath weren't done, however, and put in two more goals via Johnson Joseph Mathews (87′) and Himanshu Patil (88′) at the tail-end of the uneven contest.
Only the top two clubs after the single leg round robin action is complete will gain promotion to next season's I-League.
SLFC's next and last fixture is scheduled for 21st May against FC Bengaluru United in Shillong. They will need to win that match and hope that other results go their way in order to finish in the top two.
Lajong's squad today: Bishal Lama (GK), Henry Ford Nongneng, Saveme Tariang, Sambor Kharsahnoh (sub Pynche Tyngkan 45'+3), Everbrightson Mylliempdah (sub Amon Lepcha 81′), Babysunday Marngar (sub Figo Syndai 46′), Hardy Cliff Nongbri, Ronaldkydon Lyngdoh Nonglait (sub Hamedamanbha Wahlang 25′), Sangti Janai Shianglong, Wadajied Kynsai Ryngkhlem, Atlanson Kharmaw
(TSR file photo)