Shillong, May 29: Ladthalaboh's last group game was a bit of a disappointment as they sunk to a 5-0 loss to Niaw Wasa United in Group B of the Meghalaya State League today.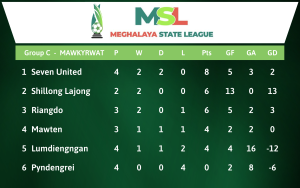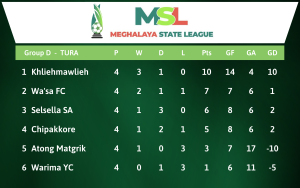 In other matches, Khliehmawlieh Youth Club consolidated their hold on Group D by defeating nearest rivals Wasa FC 4-1 in Tura. It was the same scoreline in Mawkyrwat, where Riangdo beat Lumdiengngan 4-1 in Group C. Finally, Langsning broke the record for most goals in an MSL 2023 match by blitzing Seng Samla Laitryngew 11-0 in Group A in Shillong.
At the Kiang Nangbah Stadium in Jowai, Niaw Wasa's Jeffree Surong (4′, 7′, 45'+3, 70′) pumped in four goals with the other contributed by Owanijuh Pajuh (68′). Surong powerfully volleyed in the first goal, scored a second three minutes later and bagged his hat-trick goal with a gentle tap-in at the end of the first half. Ladthadlaboh had their chances throughout the match but could not convert any of them. Two more goals in the second half wrapped things up for Niaw Wasa, who have had an inconsistent MSL 2023, though the victory still leaves them in contention for a semifinal place.
After six matches, Ladthadlaboh remain stuck on 10 points as they have lost their two most recent appearances. Niaw Wasa are now fourth with 9 points, still with a match to play but the advantage lies with Rangdajied United, who also have 10 points and two games to play. Niaw Wasa and Mulait United are tied on 9 points; the latter are in front due to having head-to-head advantage.
Over at the MDSA Ground in Mawkyrwat, Riangdo came from a goal behind to beat Lumdiengngan 4-1 and thus take third place in Group C. Stepping Stone Wanshnong gave Lumdiengngan the lead in the 36th minute but a couple of quick goals by Banshynshar Iawphniaw (40′) and Sylvester Thongni (41′) saw Riangdo go into the break leading 2-1. Thongni was substituted soon after and his replacement, John Kerry Wanniang (49′, 86′) scored a brace in the second half to carry the game for Riangdo.
Seven United continue to lead the group with 8 points but Riangdo now have 6 and a game in hand, having played three compared to Seven United's four. Defending champions Shillong Lajong, however, have a better goal difference (+13 to +3) than Riangdo and are thus second in the table. Lajong have also only played two matches so far.
At the Chandmari Ground in Tura, Khliehmawlieh moved to 10 points with their 4-1 win against Wasa FC. Both sides had 7 before today's contest and this result could prove crucial in deciding who goes through to the semifinals.
Andistar Rashir gave Khliehmawlieh the lead in only the third minute with a perfect free-kick before S Kharshilot bagged his first of the day in the 28th after a defender, while trying to trap a cross, ended up setting his opponent up for a shot. Koushik Rabha (33′), however, ensured that Wasa did not finish the half without getting on the scoreboard through his beautiful shot at the near post and Wasa would have been determined to claw their way back in the second 45 minutes.
It was not to be, though, as Kharshilot (66′) bagged a second for himself, followed by one goal for Maining Marngar (76′) to take the game away from Wasa.
In Shillong, the MFA Turf witnessed Dauruhipaia Pale (8′, 83′, 88′) and Ambilstar Sun (29′, 48′, 50′) register hat-tricks as Langsning scored at will, especially in the second half, where eight goals were netted for the home team.
Kynsaibor Lhuid (18′, 78′), Wilbert Marbaniang (64′, 90'+1) and Fedrick Wahlang (89′) were the other scorers for Langsning, who now have 9 points after four rounds, still trailing leaders Mawlai (12 points).
Tomorrow's fixtures:
Group A, Shillong – No matches scheduled
Group B, Jowai – Rangdajied United vs Mulait United, 2:30PM
Group C, Mawkyrwat – No matches scheduled
Group D, Tura – No matches scheduled
(Meghalaya Football Association photo. Langsning in red, Seng Samla Laitryngew in yellow)