Shillong, Aug 20: St Anthony's won two team titles and finished as runners-up in one at the 29th Inter School and 11th Inter College Karate Tournament 2023, which concluded on Saturday.
St Anthony's Higher Secondary School were Boys' School Team Champions, with St Anthony's Lower Primary School as the runners-up in the same category (both pictured in featured photo). St Anthony's College were also crowned College Team Champions.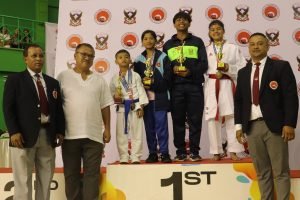 Shillong College finished second in the college category, while the Girls' School Team Champions trophy was claimed by OM Roy Memorial Higher Secondary School, who finished ahead of Providence School.
The tournament, organised by the All Meghalaya Karate-Do Association and supported by the Directorate of Sports & Youth Affairs, began on 17th August and ran for three days at the Multipurpose Hall at the Sport Authority of India's Shillong Training Centre on the NEHU campus.
Once again, the level of competition was very high and a number of bright karate prospects were spotted while the more experienced karatekas have continued to shine, many of them having now graduated to the college level.
The action was witnessed by a number of dignitaries, with the Sports & Youth Affairs Minister Shakliar Warjri present on the opening day as the chief guest. Working President of the Meghalaya State Olympic Association John F Kharshiing was present at both the opening and closing ceremonies and he was accompanied to the latter by not one but two former Olympians – Ian Campbell, who is spearheading the Elite Pathway Programme to groom athletes with enormous potential, and Robert Kabbas, who has one Olympic silver medal as well as two gold and one silver from the Commonwealth Games to his name in weightlifting.
Other dignitaries included MSOA General Secretary Finely L Pariat and Assistant Director of Sports & Youth Affairs Paia B War Nongbri, among others.
Around 500 karatekas from 70 schools and six colleges took part in the kumite (sparring) and kata (demonstration of form) events.
Individual awards were also handed out at the closing ceremony, with Darren R Warjri of Christian Academy Higher Secondary School taking the Best Karateka award in the Junior Boys category. The Senior Boys' title was won by Paul Danny Kharmudai of Providence School.
The Best Karateka in the Junior Girls' category was Xenia Rose Nongsiej of St Joseph's Higher Secondary School, Pynthorumkhrah, while Rebeka Nongspung of Providence School was awarded the title in the Senior Girls' category.
29TH INTER SCHOOL KARATE TOURNAMENT 2023
(17TH – 19TH AUGUST 2023)
Girls Individual Kata U-10 Years
Name of Participants
Name of School
Results
Asenka Beryl Marwein
St Joseph's English School
Gold
Joanna P Ryngnga
St Mary's HSS
Silver
Bernadeen G Dkhar
Synod HSS
Bronze
Daphilawankmen Tympuin
St Mary's HSS
Bronze
Girls Individual Kata U-12 Years
Name of Participants
Name of School
Results
Xenia Rose Nongsiej
St Joseph's HSS, Pynthorumkhrah
Gold
Esaranaki Kharjana
Mayqueen SS
Silver
Nelisha Kharpran
Providence School
Bronze
Phibanylla Eleanora Thongni
St Dominic Savio's HSS
Bronze
Girls Individual Kata Under 16 Years
Name of Participants
Name of School
Results
Emika Deimaia Myrthong
BK Bajoria School
Gold
Ibakordor M Kharwanlang
Providence School
Silver
Mebapynhun Marngar
Church of God (ECC) HSS
Bronze
Aibiangmisaka Lyngdoh Mawphlang
Eriben Presbyterian SS
Bronze
Girls Individual Kata Above 16 Years
Name of Participants
Name of School
Results
Rebeka Nongspung
Providence School
Gold
Daiakyntiew Wahlang
OM Roy Memorial HSS
Silver
Aibiangpormika Lyngdoh Mawphlang
Eriben Presbyterian SS
Bronze
Adeline Sohkhlet
OM Roy Memorial HSS
Bronze
Girls Team Kata
Name of Participants
Name of School
Results
Nelisha Kharpran
Providence School
Gold
Ibakordor M Kharwanlang
Sonali D Sangma
Inlumlang Skhemiew
OM Roy Memorial HSS
Silver
Adeline Sohkhlet
Daiakyntiew Wahlang
Dora Joanna Dohtdong
Synod HSS
Bronze
Waiarisa Syiemlieh
Rikaphylla Skhemlon
Deisy Mary Lyngdoh
KC Secondary School
Bronze
Ibashongdor K Rani
Klirme Beypi
Girls Individual Kumite 6 Years
Name of Participants
Name of School
Results
Haphibansuk Sohshen
St Joseph's LP School
Gold
Adalicia T Nongtdu
St. Mary's HSS
Silver
Sanaita Ale
St. Mary's HSS
Bronze
Princy A Blah Pohti
Pine Mount School, Shillong
Bronze
Girls Individual Kumite 7 Years
Name of Participants
Name of School
Results
Ellyona Clara Kharshanbi
KV Happy Valley
Gold
Insanda Akor Caitlyn Warjri
Loreto Convent
Silver
Samaira Nongsiej
St Mary's HSS
Bronze
Elsa Ibawanshwa Diengdoh
Little Flower SS
Bronze
Girls Individual Kumite 8 Years
Name of Participants
Name of School
Results
Naome Yuzinie Sylliang
Sacred Heart Girls HSS
Gold
Yvette Leticia L Mairang
Church of God (ECC) HSS
Silver
Daphilawankmen Tympuin
St Mary's Higher SS
Bronze
Laishram Yohenbi Devi
BK Bajoria School
Bronze
Girls Individual Kumite 9 Years
Name of Participants
Name of School
Results
Tatiana Nongsiej
Lumshyiap SS
Gold
Sandasulang Myrthong
Providence School
Silver
Iniwandaka Kharjana
Pine Mount School, Shillong
Bronze
Eliana Haphisha Syiem
BK Bajoria School
Bronze
Girls Individual Kumite 10 Years
Name of Participants
Name of School
Results
Kerphiiangi Stephanie Thabah
Loreto Convent
Gold
Andrea Rana Basaiawmoit
Seven Set HSS, Malki
Silver
Audrella C Marbaniang
Loreto Convent
Bronze
Ibalatyngkai L Nongkynrih
St Joseph's LP School
Bronze
Girls Individual Kumite 11 Years
Name of Participants
Name of School
Results
Nelisha Kharpran
Providence School
Gold
Philapynkmen Nongkynrih
Christian Academy HSS
Silver
Hinam K Lamin
Synod Higher SS
Bronze
Rajvee Viritka Raje
St Mary's HSS
Bronze
Girls Individual Kumite 12 Years
Name of Participants
Name of School
Results
Esaranaki Kharjana
Mayqueen SS
Gold
Dominica P Kharbani
Sacred Heart Girls HSS
Silver
Xenia Rose Nongsiej
St Joseph's HSS, Pynthorumkhrah
Bronze
Risaiaka Ryntathiang
Synod HSS
Bronze
Girls Individual Kumite 13 Years
Name of Participants
Name of School
Results
Berecca Dkhar
BK Bajoria School
Gold
Emika Deimaia Myrthong
BK Bajoria School
Silver
Darisa Phawa
KC SS
Bronze
Ibankyntiew Iangrai
Pine Mount School, Shillong
Bronze
Girls Individual Kumite Cadet -40 Kg
Name of Participants
Name of School
Results
Jennet Rumnong
Govt UP RMSA SS, Nongkwar
Gold
Kerridame M Khongji
Synod HSS
Silver
Joanna Z Laloo
Pine Mount School, Shillong
Bronze
Sophiana Dkhar
Synod HSS
Bronze
Girls Individual Kumite Cadet -47 Kg
Name of Participants
Name of School
Results
Dayalangki Challam
Army Public School
Gold
Sandameka V Langstieh
Synod HSS
Silver
Mebapynhun Marngar
Church of God (ECC) Higher Secondary School
Bronze
Fennycia Nongkhlaw
Govt UP RMSA SS, Nongkwar
Bronze
Girls Individual Kumite Cadet -54 Kg
Name of Participants
Name of School
Results
Daphishisha Shadap
OM Roy Memorial HSS
Gold
Toroilangki Pala
KC Secondary School
Silver
Ameliza M Lyngkhoi
Pine Mount School, Shillong
Bronze
Saralyn Phawa
Brookside Adventist HSS
Bronze
Girls Individual Kumite Cadet +54 Kg
Name of Participants
Name of School
Results
Dorea Joanna Dohtdong
Synod HSS
Gold
Daphilahun M Wahlang
Sacred Heart Boys' HSS
Silver
Ibakordor M Kharwanlang
Providence School
Bronze
Elizabeth Lalruatfeli
KC Secondary School
Bronze
Girls Individual Kumite Junior -45 Kg
Name of Participants
Name of School
Results
Inlumlang Skhemiew
OM Roy Memorial HSS
Gold
Delightful Marngar
St Anthony's HSS
Silver
Felicia Kharbani
Pine Mount School, Shillong
Bronze
Balapdianghun Kharkongor
Christian Academy HSS
Bronze
Girls Individual Kumite Junior -50 Kg
Name of Participants
Name of School
Results
Kynjailin Lyngdoh Mawnai
OM Roy Memorial HSS
Gold
Ibashongdor K Rani
KC Secondary School
Silver
Clareenda Lyngdoh
St Joseph's HSS
Bronze
Indarika Nongbri
Mynken RMSA SS
Bronze
Girls Individual Kumite Junior +50 Kg
Name of Participants
Name of School
Results
Larisha Kurbah
OM Roy Memorial HSS
Gold
Adeline Sohkhlet
OM Roy Memorial HSS
Silver
Sweety Ranee
St Edmund's HSS
Bronze
Philashisha Syngkli
Govt UP RMSA SS
Bronze
Girls Individual Kumite Senior Open
Name of Participants
Name of School
Results
Rebeka Nongspung
Providence School
Gold
Wandahunshisha Mawblei
Shillong College Higher Secondary Section
Silver
Fennysha Shangpliang
Govt UP RMSA SS
Bronze
Phindasumarlin Rani
Sacred Heart Boys' HSS
Bronze
Boys Individual Kata U-10 Years
Name of Participants
Name of School
Results
Daaron R Warjri
Christian Academy HSS
Gold
Hamebanjop L Kharmawphlang
Mayqueen SS
Silver
Nevyn Ian Ryngksai
Christian Academy HSS
Bronze
Jaxon Meky Mawthoh
Sunrays SS, Mawlai Nonglum
Bronze
Boys Individual Kata U-12 Years
Name of Participants
Name of School
Results
Jason Mc R Malniang
St Anthony's LP School
Gold
Eric Banteinam Ryngnga
St Anthony's HSS
Silver
Dakitdorbha L Chyne
St Anthony's LP School
Bronze
Ben Hanan Oshea Kharmawphlang
St Edmund's School, Shillong
Bronze
Boys Individual Kata U-16 Years
Name of Participants
Name of School
Results
Aventinus G Mylliem
St Anthony's HSS
Gold
Ferdinand S Rani
St Anthony's HSS
Silver
Gregorwilson Makdoh
St Anthony's HSS
Bronze
Badondor S Ryntathiang
St Anthony's HSS
Bronze
Boys Individual Kata Above 16 Years
Name of Participants
Name of School
Results
Paul Danny Kharmudai
Providence School
Gold
Wilson Mylliempdah
Providence School
Silver
Ram Lanong
Government Boys HSS
Bronze
Gideon Tympuin
St Anthony's HSS
Bronze
Boys Team Kata
Name of Participants
Name of School
Results
Gregorwilson Makdoh
St Anthony's HSS
Gold
Gideon Tympuin
Ferdinand S Rani
Paul Danny Kharmudai
Providence School
Silver
Cheltis Shylla
Iohbor Mylliempdah
Yowanki Kharwillborn
KC Secondary School
Bronze
Mebalambok Kharshandi
Safyyo Nongtdu
Savio Majaw
St Anthony's LP School
Bronze
Jason Malngiang
Dakitdorbha L Chyne
Boys Individual Kumite 6 Years
Name of Participants
Name of School
Results
Darren R Warjri
Christian Academy HSS
Gold
Wilson Lunlalmuan
St Anthony's LP School
Silver
Roderick Donbok Kharbani
Sacred Heart Girls HSS, Mawlai
Bronze
Reece Blaise Dohkruit
St Anthony's LP School
Bronze
Boys Individual Kumite 7 Years
Name of Participants
Name of School
Results
Ethaniel Azariah Marwein
Cherished Buds School, Lummawbah
Gold
Joradan Kharsyntiew
Step by Step School
Silver
Christovianney K Nongspung
Jyoti Sroat School
Bronze
Manri-oo Hame Dkhar
St Anthony's LP School
Bronze
Boys Individual Kumite 8 Years
Name of Participants
Name of School
Results
Trevor Ryntathiang
Seven Set HSS, Malki
Gold
Flavian Sawian
St Anthony's LP School
Gold
Hezron Khongwir Nongkhlaw
St Anthony's LP School
Silver
Amenmanbha B Sawkmie
St Anthony's LP School
Bronze
Mewanbanshan Jana Nongbet
St Anthony's LP School
Bronze
Boys Individual Kumite 9 Years
Name of Participants
Name of School
Results
Fabian Nongkynrih
St Albert's SS
Gold
Jayden Laloo
Seven Set HSS, Malki
Silver
Jaxon Meky Mawthoh
Sunrays SS, Mawlai Nonglum
Bronze
Johanson Nongkynrih
H Elias HSS
Bronze
Boys Individual Kumite 10 Years
Name of Participants
Name of School
Results
Garret Ivan Lyngdoh
St Anthony's LP School
Gold
Jayden Lewanmi War
Seven Set HSS, Malki
Silver
Hamemanbha F Dhar
Christian Academy HSS
Bronze
Bruce E Mawkhlieng
St Anthony's LP School
Bronze
Boys Individual Kumite 11 Years
Name of Participants
Name of School
Results
Aibor Jyrwa
St Joseph's HSS, Pynthorumkhrah
Gold
Alvin Sammy L Mawlong
St Anthony's HSS
Silver
Demitrio Dkhar
St Anthony's HSS
Bronze
Ronak Thapa
St Anthony's LP School
Bronze
Boys Individual Kumite 12 Years
Name of Participants
Name of School
Results
Damelambha Elnathan Rymbai
St Edmund's School, Shillong
Gold
Samuel Kurbah
Divine Saviour HSS
Silver
Henry Wanshan K Khongwet
Sacred Heart Boys' HSS
Bronze
Banshaibor Kharshandi
KC Secondary School
Bronze
Boys Individual Kumite 13 Years
Name of Participants
Name of School
Results
Abhradeep Agnan
KV NEHU, Shillong
Gold
Nowmi Ryngkhlem
St Anthony's HSS
Silver
Mebalambok Kharshandi
KC Secondary School
Bronze
Nongpoknganba T Kharmawphlang
Mayqueen SS
Bronze
Boys Individual Kumite Cadet -45 Kg
Name of Participants
Name of School
Results
Yowanki Kharwillborn
KC Secondary School
Gold
Bankerlang Marbaniang
Providence School
Silver
Hakidawanme D Phanbuh
Sunrays SS, Mawlai Nonglum
Bronze
Bameshanlang Sawkmie
Seven Set HSS, Malki
Bronze
Boys Individual Kumite Cadet -52 Kg
Name of Participants
Name of School
Results
Ferdinand S Rani
St Anthony's HSS
Gold
Febbyson Lyngkhoi
Sunrays SS, Mawlai Nonglum
Silver
Shanborlang Kharkrang
St Gabriel HSS, Upper Shillong
Bronze
Iainehskhem Shabong
Government Boys HSS
Bronze
Boys Individual Kumite Cadet -57 Kg
Name of Participants
Name of School
Results
Gregorwilson Makdoh
St Anthony's HSS
Gold
Nathanial Marbaniang
Sunrays SS, Mawlai Nonglum
Silver
Aventinus G Mylliem
St Anthony's HSS
Bronze
Arsang Bongcher
St Anthony's HSS
Bronze
Boys Individual Kumite Cadet -63 Kg
Name of Participants
Name of School
Results
Romeo Nongtdu
KC Secondary School
Gold
Sarmiji Hanse
KC Secondary School
Silver
Nathaniel Ryntathiang
St Anthony's HSS
Bronze
Gareth R Dhar
KV NEHU, Shillong
Bronze
Boys Individual Kumite Cadet +63 Kg
Name of Participants
Name of School
Results
Emmanuel B Diengdoh
St Anthony's HSS
Gold
Jeremaiah Kharshandi
Mrs N Hills 'Tiny Tots' East Ville School
Silver
Thanyawut Ritthong
KC Secondary School
Bronze
Deepayan Sarkar
St Anthony's HSS
Bronze
Boys Individual Kumite Junior -50 Kg
Name of Participants
Name of School
Results
Damebanmerbha S Blah
BSF Senior SS, Umpling
Gold
Samebanmerbha S Blah
BSF Senior SS, Umpling
Silver
Wilson Mylliempdah
Providence School
Bronze
Jasper D Pdang
St Anthony's HSS
Bronze
Boys Individual Kumite Junior -55 Kg
Name of Participants
Name of School
Results
Ram Lanong
Government Boys HSS
Gold
Gideon Tympuin
St Anthony's HSS
Silver
Lakhon Lanong
Government Boys HSS
Bronze
Kmenlang Shabong
Government Boys HSS
Bronze
Boys Individual Kumite Junior +55 Kg
Name of Participants
Name of School
Results
Shanderson Nongrem
OM Roy Memorial HSS
Gold
Kympham Kharkongor
Shillong College Higher Secondary Section
Silver
Bhawanchwadame L Mawphlang
St Anthony's HSS
Bronze
Aaron Theodore Lyngdoh
St Edmund's HSS
Bronze
Boys Individual Kumite Senior -50 Kg
Name of Participants
Name of School
Results
Teiborlang Lapang
Shillong College Higher Secondary Section
Gold
Fredrick Rani
Shillong College Higher Secondary Section
Silver
Manish Sohbar
KC Secondary School
Bronze
Bankerlang Khardewsaw
Christian Academy HSS
Bronze
Boys Individual Kumite Senior -55 Kg
Name of Participants
Name of School
Results
Nangkitbok Phira
Shillong College Higher Secondary Section
Gold
Cheltis Shylla
Providence School
Silver
Biswajit Sinha
Laban Bengalee Boy's HSS
Bronze
Boys Individual Kumite Senior +55 Kg
Name of Participants
Name of School
Results
Paul Danny Kharmudai
Providence School
Gold
Evanmedon Rynghang
OM Roy Memorial HSS
Silver
Iohbor Mylliempdah
Providence School
Bronze
Jemuel Marak
Little Flower HSS, Dadenggre
Bronze
11TH INTER COLLEGE KARATE TOURNAMENT 2023
Women Individual Kata
Name of Participants
Name of College
Results
Eva Gracia Mary Kharumnuid
St Anthony's College
Gold
Elisheba Khongwar
St Edmund College
Silver
Melvarica Kharbani
St Mary's College
Bronze
Dikshita Hazarika
St Anthony's College
Bronze
Women Individual Kumite Senior -45 Kg
Name of Participants
Name of College
Results
Eva Gracia Mary Kharumnuid
St Anthony's College
Gold
Melvarica Kharbani
St Mary's College
Silver
Elisheba Khongwar
St Edmund's College
Bronze
Genievieve D Wahlang
Synod College
Bronze
Women Individual Kumite Senior -50 Kg
Name of Participants
Name of College
Results
Dikshita Hazarika
St Anthony's College
Gold
Moirangthem T Linthpichanu
St Anthony's College
Silver
Dakapaia Kharpran
Shillong College
Bronze
Saphira Lyngkhoi
St Mary's College
Bronze
Women Individual Kumite Senior +50 Kg
Name of Participants
Name of College
Results
Carene Sohiong
Shillong College
Gold
Carenia Rapthap
Shillong College
Silver
Dutyfull Lyngdoh
Greater Mawlai College
Bronze
Impera Makdoh
St Anthony's College
Bronze
Name of College
Name of Participants
Name of College
Results
Wanphrang Jyrwa
Shillong Commerce
Gold
Davysong Kharkpngor
Seng Khasi College
Silver
Ialamphang Kharkongor
Shillong College
Bronze
Men Individual Kumite Senior Open
Name of Participants
Name of College
Results
Ialamphang Kharkongor
Shillong College
Gold
Davysong Kharkpngor
Seng Khasi College
Silver
Evanstone Thangkghiew
St Anthony's College
Bronze
Samkhih Lama
Shillong College
Bronze
(All Meghalaya Karate-Do Association photos)