Shillong, Sep 29: Mawpdang SC came from a goal down to beat Lamlynti FC of Madanlyngkhi 2-1 and thus top Group C in the Shillong Sports Association's U-20 Fourth Division 2023 at Third Ground, Polo, here today.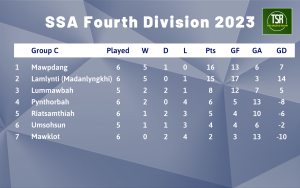 Prior to today, Lamlynti were leading the group standings with five wins. Mawpdang had done almost as well except for their very first match which ended in a draw.
It seemed to be going Lamlynti's way today as well after Ksankupar Khongngaiñ scored his first goal of the season in the 12th minute.
However, Mawpdang came back in the second half of the 70-minute match, with the equaliser provided by Garrywell Syiem (38′), the club's top scorer with 7 goals. Then, with 10 minutes remaining, Hamekordor Mylliem (60′) scored his maiden goal to give Mawpdang victory and first place in Group C.
By finishing in the top two, both teams have qualified for the quarterfinals, though.
Tomorrow will witness the conclusion of the group matches with six games lined up.
Tomorrow's fixtures:
U-20 Fourth Division – Laitumkhrah SC vs Madanrting SC, Group B, Third Ground, 10AM
U-20 Fourth Division – Mawlyngngad SC vs Mawnianglah Youth SC, Group D, Third Ground, 11:30AM
U-20 Fourth Division – Laitlulong SC vs Lamlynti SC (Sohiong), Group A, Third Ground, 1:15PM
U-20 Fourth Division – Diliengiem YSCWA vs Iatyllilang SC, Group A, Third Ground, 3:15PM
U-20 Fourth Division – Pommura SC vs Laitkroh SC, Group D, Third Ground, 4:45PM
U-20 Fourth Division – Lummawbah SC vs Umsohsun SC, Group C, Third Ground, 6:15PM