Shillong, Jan 17: Coterie and Aeronation won the women's and men's titles at the Tyllilang Basketball League here on Wednesday.
The tournament, which began on 28th December, concluded today at Pearly Dew Higher Secondary School in Jaiaw Laitdom. Eleven men's teams and six women's took part in the competition.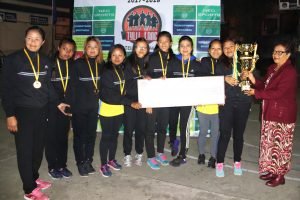 In the women's final Coterie took out a good lead in the first quarter against Tyllilang, but the latter came back over the next two and the scorers were level at 27-27 at the start of the fourth quarter.
Coterie, however, drew on all of their reserves and experience to pull out another lead in the last 15 minutes and win 43-33.
Later the men's title match saw Laban leading at the end of the first half 22-20. Aeronation then stormed back in the third quarter as Laban found their shots a little off target.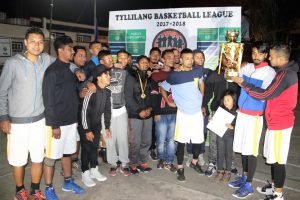 At one stage in the fourth quarter Aeronation had taken a 10-point lead, but then, in what was almost a stunning turnaround, Laban made a series of baskets as momentum swung their way. It was a close-run thing, but Aeronation held on for the win, 51 points to 48.
The winners each received Rs 30,000 plus the Toteilari Winners Memorial Trophy. The runners-up took home Rs 15,000 each and the Lari Sandor Runners-Up Memorial Trophy.
Individual awards were also distributed as follows:
Most promising player – I Wahlang (female); Kyrmen Khongsdam (male)
Best defensive player – Lari Warjri (female); Rilang Shadap (male)
Most valuable player – Rilin Lyngdoh (female); Nathaniel Kharbih (male)