Shillong, Oct 1: Shillong College and Nongkrem Presbyterian Sec School won the boys' college and girls' school titles respectively in the Reliance Foundation Youth Sports' Shillong championships at the JN Stadium here today.
In the first final, Nongkrem PSS beat their neighbours Nongkrem Higher Secondary School 2-0 in the girls' game, while it was a little more one-sided in the college boys' final where Shillong College blitzed Synod College 6-0.
Saralin Warlarpih of Nongkrem PSS had a dream final as she took her side home with a goal on either side of half time and was deservingly awarded with the Golden Ball. Her team mate Natasha Wankhar won the Golden Glove for three clean sheets as goalkeeper.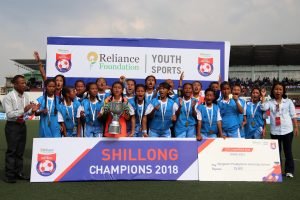 The awards after the girls' final were presented by Nita Ambani, Founder and Chairperson of Reliance Foundation, Sports & Youth Affairs Minister Banteidor Lyngdoh and NorthEast United FC co-owner John Abraham.
Synod College might have upset St Anthony's College in the semifinal round, but the final against mighty Shillong College was lopsided, with Phrangki Buam scoring a hat-trick.
Khlainbor Khongsit opened the scoring for Shillong College with his eighth minute tap-in goal off a corner and Buam scored another two before half time.
Synod College offered more of a fight in the second half, but later on Shillong College found a way through again and added three more goals in the second session – Buam, Samuel Kynshi and Robert Khongjoh the scorers.
The champions' Pynbhalang Suting was the player of the match for his solid performance in the midfield, while Buam was a double award winner, picking up the Golden Boot and Golden Ball. Shillong College goalkeeper Mebanrilang Suchiang, with four clean sheets, bagged the Golden Glove.
The prizes after the boys' final were presented by Sports & Youth Affairs Minister Banteidor Lyngdoh, Sports & Youth Affairs Director Matsiewdor War Nongbri and Meghalaya Football Association President Larsing Ming Sawyan.
Nongkrem PSS and Shillong College will now progress to the next round of the nationwide competition.
Today's winners received Rs 25,000 each in prize money, with Rs 10,000 going to each of the runners-up.
(TSR photos. The featured photo is of Shillong College celebrating with dignitaries)