Shillong, Nov 20: Centuries for Raj Biswa (pictured celebrating his hundred) and guest/professional Yogesh Nagar took Meghalaya to 338/5 at stumps on the first day of the Ranji Trophy plate group match against Nagaland at the Meghalaya Cricket Association Ground here today.
This is already Meghalaya's highest score and it comes in their third Ranji match.
Meanwhile, the Meghalaya U-16 team won their Vijay Merchant Trophy match today against Arunachal Pradesh, while the U-19 team won by an innings against Mizoram in the Cooch Behar Trophy.
In the Ranji Trophy Nagaland won the toss and elected to field and the visitors were able to snap up three early wickets to reduce Meghalaya to 66/3. The hosts, however, were rescued by opening batsman Biswa and Nagar, who put on 231 runs for the fourth wicket. Nagar batted with his usual flair, whacking 22 fours and two sixes in his innings of 166 from 197 deliveries. But it was also a tremendous accomplishment for Biswa to get his ton. He reached the milestone by edging the ball down to third man for three, but there were plenty of good shots in his innings of 111, which included 12 fours.
Both batsmen were dismissed in the last session of the day and Meghalaya will have Gurinder Singh (23) and Abhay Negi (1) at the crease when play resumes tomorrow.
U-16 VIJAY MERCHANT TROPHY
Meanwhile, in the U-16 Vijay Merchant Trophy, Meghalaya bagged the five remaining Arunachal Pradesh wickets on the final day to win their fifth consecutive match in the North East Zone by a massive 156 runs in Mangaldai, Assam.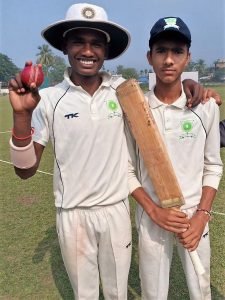 Resuming on 88/5, and still needing another 166 for victory, Arunachal were bowled out for 97.
Adding to his four wickets from yesterday, captain and fast bowler Sudhir Sahani claimed another three today to end with impressive second innings figures of 7/30 and match figures of 9/37. Nirdesh Baisoya (who struck 100 not out with the bat yesterday) took 1/13 and Sunvish Charak 1/22.
Meghalaya thus end the zonal stage with 31 points from five games and will progress to the all-India stage.
U-19 COOCH BEHAR TROPHY
Finally, Meghalaya were also victorious in their first match of the U-19 Cooch Behar Trophy by an innings and 157 runs against Mizoram in Dibrugarh, Assam, on the second day of the four-day match.
Resuming on 215/7, Meghalaya added another 50 before being bowled out for 265, a 212-run lead over Mizoram's first innings score of 53.
Meghalaya then tore into Mizoram's batting lineup for a second time, dismissing them for 55, with Aryan taking 6/18 (match figures of 11/30), Swastic Chettri 3/4 and Abhishek 1/5.
Victory by an innings means that Meghalaya received a bonus point in addition to the six they picked up as winners.
(Photos contributed by the Meghalaya Cricket Association)