Shillong, Dec 10: Shillong Lajong will play their first ever match in Srinagar tomorrow when they take on promoted side Real Kashmir at 2PM.
The weather is set to be chilly, with forecasts showing a maximum of 5 degrees Celsius tomorrow.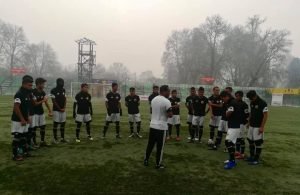 What sort of outing are Lajong going to have in their new destination?
Kitboklang Pale is part of the visiting team, so he might play, but can SLFC shake the fact that they have won just one out of their seven matches so far, including all three away?
Lajong have been conceding, on average, more than two goals per game (16 in 7) while scoring only a little more than one (9 in 7). You aren't going to win many matches like that.
Real Kashmir, however, have had a mixed first season as well. They started with what looked like a phenomenal away win at defending champions Minerva Punjab on 31st October, but that, given future performances, appeared to show that Minerva needed to work on a lot of aspects.
After that game Real Kashmir have played five consecutive home games, with tomorrow's versus Lajong to be the sixth.
Of these they drew 0-0 with Churchill Brothers, before losing to NEROCA (2-0) and Mohun Bagan (1-0) and then finally registering a couple of home wins against sides that have been performing as badly as Lajong – namely Indian Arrows (2-0) and Aizawl FC (1-0).
One thing interesting about the hosts, though, is how many players they have in the ranks who have played football in the past for Shillong clubs. These include the likes of Loveday Enyinnaya Okechukwu, Nadong Bhutia and Nagen Tamang.
Of course, the trio are unlikely to have any memories of playing with the current crop of Lajong players, given that the latter are so young.
Forget the past, what will matter is how the two sides perform on the pitch tomorrow. Real Kashmir's mixed season has still given them 10 points from six games, while Lajong are mired on four from seven. Aizawl's crushing 4-1 defeat yesterday at Churchill Brothers has opened up a big opportunity for SLFC; one win and they will move out of the drop zone with the Mizoram team struggling despite investing so much in getting outside players.
(Photo credit: Facebook/I-League)