It's slow going in terms of sports news with the year ending, so why don't we take a look at a selection of some of the most-read stories on the TSR website from 2018.
The crime occurred in March 2014 when Kamimura broke into the woman's home after midnight, struck her in the face and threatened to kill her. Other news sites say the footballer had tied up the university student and blindfolded her before the rape.
9) We profiled four Meghalaya sportswomen around International Women's Day in March. The article on runner Darishisha Iangjuh proved the most popular and her life story is clearly an amazing one.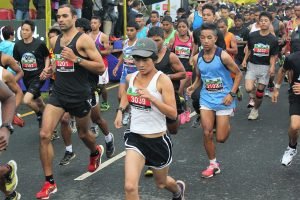 We also profiled basketball player and coach Larihun Warjri, archer, archery judge and top civil servant Matsiewdor War Nongbri and football referee Merrylene Tongwah.
8) Stories revolving around the Shillong Premier League 2018 were usually very popular, especially when there was some controversy or other, including this – the day that the absence of a handful of ball boys forced the cancellation of the 20th August game between Meghalaya Police and Malki.
In October violence committed by spectators after Rangdajied United beat Malki was also read about a lot and our video from the game has been watched nearly 50,000 times on YouTube.
7) Another popular football story from 2018 was about the heartwarming promotion of Laban SC to the Shillong Premier League, which came just months after they almost pulled the plug on their football team because of a shortage of funds.
Here we interviewed club President Sammy Myrthong after Laban had qualified for the top two of the First Division, which guaranteed them a place in the SPL. Laban would go on to win the final as well.
Unfortunately, while they did have some success in Group C, they were eventually knocked out after finishing third.
5) This was also a big year for some very small people with the first edition of the Meghalaya Baby League, which was inaugurated in May.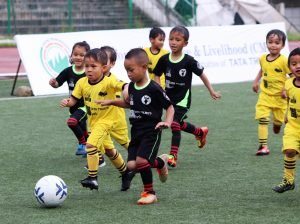 By the time the league, which is the first of its kind in India, ended earlier this month more than 1,300 matches involving around 1,000 children had been played, with main sponsor Tata Trusts pledging to continue its support for a second year in 2019.
4) John Abraham's visits to Shillong always garner a lot of attention and his visit to the Meghalaya capital in October was no exception.
NorthEast United FC co-owner Abraham said that he has been in talks with Chief Minister Conrad Sangma in order to find land for a football academy in Meghalaya. He was in town for the Shillong leg of the Reliance Foundation Youth Sports girls' school and boys' college finals.
Born in 1990, Dhar was also an official during the final round of the Indian Women's League, which was held in Shillong earlier this year.
2) With temperatures dropping in Shillong this is really the place to be – the first controlled-temperature indoor swimming pool, which was inaugurated in March.
True North Leisure Centre is located near the heart of Shillong in Mission Compound. The pool, which incorporates a kids' pool as well, is of medium depth, with the deepest end at five and a half feet.
1) Cricket news isn't usually our most popular, but it did give us the top story for 2018 – when the first ever Meghalaya team to take part in the Vijay Hazare Trophy was named just before the start of the tournament in September.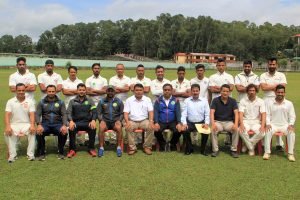 Meghalaya would go on to win four and lose four of the one-day matches by the time their participation concluded in October. They then began their Ranji Trophy campaign.