Shillong, Oct 11: The exciting last few matches of the Shillong Premier League 2019's first leg have seen Rangdajied United finish in first place at the halfway stage of the season.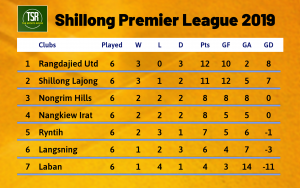 Rangdajied, who have yet to be beaten so far, are leading Shillong Lajong by just one point after six rounds while defending champions Langsning and newbies Laban are in the relegation zone.
It was slow going in terms of goals this season, with just 28 scored in the first 17 matches. However, it has picked up lately with 19 scored in the last four.
Nongrim Hills' 2-1 win over Nangkiew Irat last Saturday and 4-2 win over Laban on Thursday saw the former move from bottom place to third. They are tied with Nangkiew on points but in front on head-to-head advantage.
Today's 2-2 draw let Ryntih climb above Langsning while it also prevented Lajong from going into the second leg at the top of the table.
The big surprise is to see how far Langsning have fallen this year. From winning the past two editions of the SPL, they're now in very real danger of relegation. Just four points separate the bottom five teams, though, so there's still hope for them to turn things around.
(TSR file photo)