Shillong, Nov 21: Mawkhohphed SC and Rangdajied United FC will kick-off the second season of the Meghalaya State League in Mawkyrwat on 27th November at the MDSA Football Ground.
The Group C match will begin at 1:30PM following the opening ceremony. Mawkhohphed are the champions of the Mawkyrwat District Sports Association's local league, while Rangdajied are the runners-up of the Shillong Sports Association's top league.
The fixtures (below) were released by the Meghalaya Football Association on its Facebook page today. As all the local leagues are not complete (and thus the champions not decided) the fixtures only show the district association names.
The winners of the local leagues of affiliated units automatically qualify for the MSL 2019. In addition, the runners-up of the SSA's Shillong Premier League are also awarded a place.
Being two of the biggest leagues in the state, the third-placed team from the SSA and runners-up from the West Jaintia District Sports Association (Ryntih and Niaw Wasa respectively) are vying for the wildcard spot.
The wildcard entrant will be slotted into Group D, which is otherwise comprised of Garo Hills' teams.
The 21 teams have been divided into four groups, with Group A in Jowai having six teams and five each in the others. Each team plays each other once in a single leg format.
Groups B, C and D all finish their matches on 6th December, while Group A will conclude on 9th December. The semifinals and final then follow (dates not announced).
Group A consists of Ri-Bhoi and East Khasi Hills' clubs, Group B West and East Jaintia Hills' clubs, Group C West and South West Khasi Hills' teams as well as Rangdajied, while Group D comprises teams from Garo Hills plus the wildcard.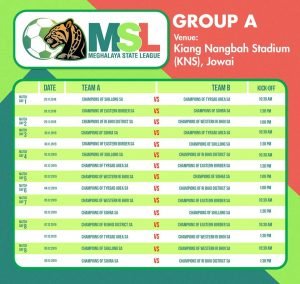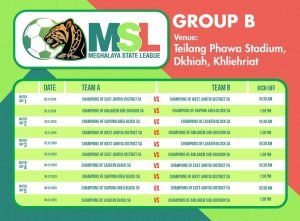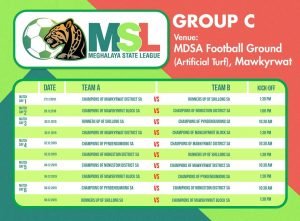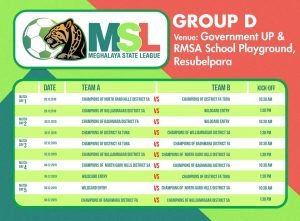 (TSR file photo)