Shillong, Mar 18: Youngstar FC and Khliehmawlieh Nongstoin won their respective matches of the second round of the 1st Shortimai Knockout Football Tournament, organised by the Seng Samla Smit Pyllun and Smit SC, today.
The first match witnessed a close fight between Youngstar and Madan Iingsyiem Mylliem SC. Hardy Cliff Nongbri scored to put Youngstar into the lead in the 24th minute but parity was restored soon after through C Thma (32′) for Madan Iingsyiem Mylliem.
Penalties were required to separate the two sides and Youngstar won the shootout 6-5.
Aenam Jyrwa (featured photo) from Youngstar was named man-of-the-match. The award was handed to him by Meghalaya Football Association Treasurer Wanshan Kharkrang.
The second game was more one-sided with Khliehmawlieh Nongstoin romping to a 4-0 victory over Thunderbolt Laitlyngkot.
The goal scorers were H Wanbiang (8′), H Marthong (19′, 30′) and L Mawphniang (80′).
Kyntiew Marthong was named man-of-the-match. The award was presented by Miningstar Mylliemngap, the Secretary of the Tournament Committee.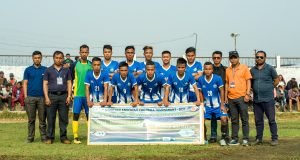 Tomorrow, Paraladei Smit will take on Nangkiew Umiew at 11AM, while Lamare FC (who received a bye in the first round) will face Mawmluh Shi Dose at 2PM. This was informed by the tournament's Organising Secretary, Syntem Kamwamut Nengnong.
(Photos contributed)