Shillong, May 3: The semifinal line-up in basketball at the 4th Meghalaya Games 2022 was completed, with the last-four matches scheduled to be held tomorrow at NEIGRIHMS Indoor Stadium.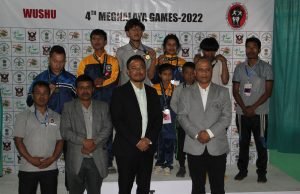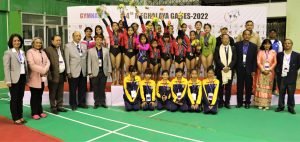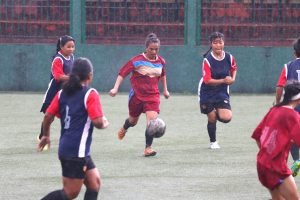 Several disciplines got going today, chief among them being football, boxing, taekwondo, weightlifting (pictured), badminton, tennis, shooting and archery.
West Khasi Hills, who are defending champions in both the men's and women's events, made it through to the basketball semifinals. The women's team will face Ri-Bhoi at 12:15PM and the men will also be up against the same opponents at 2:45PM. West Jaintia Hills and East Khasi Hills will also meet in the semis of both the women's and men's competition, with the women's match taking place at 1:30PM and the men's at 4PM.
In football, which is being played both at Mawlai Madan Heh and SAI Centre, West Khasi Hills defeated South West Khasi Hills and Eastern West Khasi Hills beat West Jaintia Hills in their respective pre-quarterfinals of the women's division. Both matches ended 2-0.
The third fixture at Madan Heh was the first quarterfinal, between East Jaintia Hills and North Garo Hills, which the former won 7-0 thanks to a hat-trick by Rushia Dkhar (33′, 50′, 58′).
Notable among the men's results was the 13-1 victory for East Khasi Hills against South Garo Hills in the pre-quarters. The men's event is for U-21, while the women's is for senior players.
In Madanrting, for wushu, Dorian Dean Nongrum took gold in the sub-junior boys below-42kg category, with Femi Rymbai first among sub-junior boys below-36kg category and Marvisha Sohklet first in the sub-junior girls below-42kg event. Deputy Chief Whip Pyniaid Sing Syiem was the chief guest at this evening's wushu events.
Over at the SAI Indoor Training Hall, the gymnastics medals were distributed to the young gymnasts by Meghalaya State Olympic Association Working President John F Kharshiing, Vice-President Matsiewdor War Nongbri and other dignitaries.
There will be plenty more action tomorrow, with athletics, cycling, karate, swimming and table tennis all beginning.
(Meghalaya State Olympic Association photos)