Shillong, Jul 3: North Liberty Higher Secondary School won two titles in the finals of the West Jaintia Hills district-level Subroto Cup at the Kiang Nangbah Stadium in Jowai today.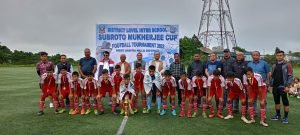 North Liberty won the U-17 girls' and U-17 boys' title matches, while HK Singh Memorial Secondary School won the U-14 boys' final.
The day began with the girls' final where North Liberty defeated Kiang Nangbah HSS 2-0. Eiladki Ksoo (30′) and Deigracia Dan (42′) scored the two goals.
Then followed the U-14 boys' final where Lumpyrtuh Secondary School were narrowly beaten by HK Singh Memorial 1-0, with the lone goal scored by Seibor Dkhar (49′).
The U-17 boys' final was the most one-sided by scoreline, with North Liberty storming to a 3-0 win against Government Boys HSS. The three goals were scored by Sahame Lyngdoh (4′), Lovingstar Suting (48′) and Micky Boy Swer (50′).
Dignitaries present on the day included Additional Deputy Commissioner MA Challam and District Sports Officer K Passah.
(Photos contributed. The featured photo is of the North Liberty Higher Secondary School girls)