Shillong, Feb 26: Sumer CC lifted the Shillong Cricket League Super Division trophy in a six-wicket victory over Langsning CC in a rain-affected final match here today.
The toss was won by Langsning, who chose to bat first.
Sanvert B Kurkalang and Manish Ray got starts for Langsning, but they were both dismissed for 25 and their side were all out for just 132 in 38.3 overs, with man-of-the-match Suraj Chettri (3-25) and Hiraj Rabha (3-30) doing the damage for Sumer.
Rain, however, interrupted the contest, but once it passed and play resumed the sun shone on Sumer's innings; their target was revised to 84 from a maximum of 25 overs.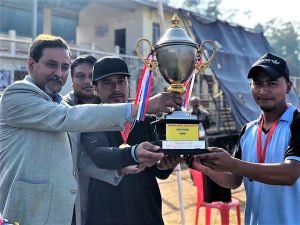 This proved to be not much of a hassle, with Jitu Gogoi striking more than half the required runs in an innings of 48. Sumer chased down the target in 19.1 overs and lost four wickets in the process. Three of those fell to Wallam Marngar for 11 runs in 2.1 overs.
Ricky Syiemlieh, who bagged one wicket for Langsning today, was declared man-of-the-series for scoring 143 runs and claiming nine wickets.
B Dutta, former MUDA director and an ex-cricketer, Meghalaya Cricket Association honorary secretary Naba Bhattacharjee and Shillong Cricket Association secretary Gideon Kharkongor were among those who distributed the trophies and other prizes.
(Photos contributed by the Shillong Cricket Association)