Shillong, Mar 7: The third edition of the Assam Rifles Invitational Football Cup began today with Lawsohtun defeating Sawmer 2-0 in an exciting opening encounter at the JN Stadium here.
Sawmer were extremely unlucky to be denied by the woodwork on three occasions, while Lawsohtun, who are twice runners-up, capitalised on their chances to score two second half goals through Bowari Khongstia (70th minute) and Joy Mrong Kharraswai (75th).
Sixteen teams are vying for the trophy in the knock-out tournament, which will run until 17th March. The competition has been organised by the Assam Rifles in collaboration with the Meghalaya Football Association.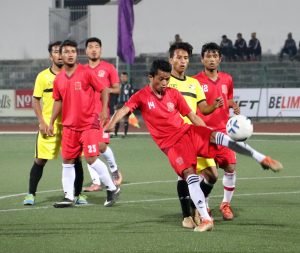 Besides Lawsohtun and the now-eliminated Sawmer, the other teams that entered the tournament are 2016 champions Smit, Ryntih, Mawpat, Umsning, Nongkrem, Umphrup, Lawmali, defending champs Assam Rifles Laitkor, Mawngap, Pomlakrai, Nongrim Hills, Eastern Pirates, West Madan and Kith United.
Chief guest and Governor of Meghalaya Ganga Prasad formally inaugurated the tournament. In his speech he paid tribute to Assam Rifles for organising last year's CAPF Under-19 Oorja football tournament successfully and added that the central government is keen to promote sport in general, and football in particular, through its Khelo India programme.
Earlier, guest of honour and new Minister of Health, AL Hek, said, "Football is the most popular game in the whole world and in Shillong as well. In every house you'll find at least one football player in the family. The sport has become an avenue to build careers and the National Games will be held in Meghalaya in a few years' time and we would like to see the best players from the state in the team and become champions at the National Games."
Meanwhile, Director General Assam Rifles and patron of the tournament, Lt Gen Shokin Chauhan extended a warm welcome to the Minister and Governor for taking the time to attend the opening match, as well as the other dignitaries and teams. He also thanked the Government of Meghalaya and the Meghalaya Football Association for their help in holding the tournament.
"Assam Rifles is aware of the passion for football in Meghalaya. Many legendary players have represented the country from the North East and in order to further encourage the youths to take up the sport, we are organising this tournament every year," the Director General added.
Both teams in the game were well-supported by their fans in the stands, who were also entertained prior to kick-off with music from the Assam Rifles jazz band, as well as a half time performance by the force's famed mass band.
There will be two matches tomorrow. In the first Mawpat will take on Umphrup at 10AM, followed by Umsning versus Nongrim Hills at 12:30PM. Both contests will take place at the Assam Regimental Centre football ground.
(Action photo by TSR, group photo by Assam Rifles)