Kick-off at 4PM
Shillong, Mar 13: Langsning FC are prepared to put their best foot forward in their opening Second Division League match, where they will go up against the reserve side of Indian Super League (ISL) team Chennaiyin FC at the JN Stadium here tomorrow.
Kick-off for the Group C fixture is at 4PM. Tickets, ranging in price from Rs 20 to Rs 100, will go on sale from noon tomorrow at the SSA ticket counters in Polo Grounds.
The Shillong Premier League 2017 champions have retained their base of players who won the club's maiden SPL title and coach Hering Shangpliang expressed confidence that they are ready for the next level and they have their hearts set on making it through the Second Division, which is the qualifier tournament for the I-League.
"The boys are ready for the next level. Our training has been going well and we are looking forward to the match," Shangpliang said at the pre-match press conference here on Tuesday. "The foreigners are trying to cope, as they are not used to the Indian style of play, plus the food and the weather, but they are making progress," he added.
Also present was Chennaiyin FC's Harish VK, who said that his charges have had to adapt to the cooler temperatures in Shillong as compared to Chennai.
Langsning have been grouped with TRAU FC of Manipur, Mohammedan Sporting and three ISL clubs' – Bengaluru FC, Jamshedpur FC and Chennaiyin FC – reserve teams.
The winners of each group and the best second-placed team will qualify for the final round. However, if any of the ISL reserve teams finish as winners or runners-up, qualification will pass to the next best non-ISL team.
As they have no possibility of getting into the second round, let alone winning the tournament, Harish said that Chennaiyin are "looking for match exposure for our boys." As such, the squad is an all-domestic one and includes five players from the North East.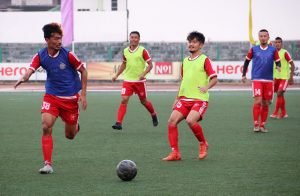 Tickets have been priced in order to make it affordable for all sections of society to come enjoy the game and Shangpliang is hoping for a good turnout.
"I would love for many fans to come and support us," the respected gaffer said.
Meghalaya Football Association Treasurer Wanshanbor Kharkrang also appealed to the fans to come out and support the club.
"We can see that Langsning have gone all out to prepare for the Second Division and they carry our hopes on their shoulders. I look forward to a good performance and supporters will play a big role in this," Kharkrang said.
(Photo of Harish VK and Hering Shangpliang contributed by Langsning FC)