Shillong, Mar 13: Smit and Mawpat booked their places in the semifinal round of the Assam Rifles Invitational Football Cup after winning their respective last-eight matches at the JN Stadium here today.
In the morning fixture 2016 champions Smit overcame twice runners-up Lawsohtun 2-1 and in the later game 10-man Mawpat and Umsning United were involved in a fascinating contest in which the former prevailed 3-2.
Lawsohtun and Smit have met in the previous two editions of the tournament, with Smit winning the 2016 final, while Lawsohtun got their own back last year in the semifinal round.
Lawsohtun were hard pressed to deny Smit a goal this year, but they held on right to the end of the half until, with the lemon break in sight and just one minute of stoppage time to see through, the defence was caught napping, allowing Andy Mawthoh to create a chance out of a long ball, which he put into the back of the net.
Soon after the restart Lawsohtun applied pressure on Smit and they bagged the equaliser in the 47th minute when Raimiki Challam tapped in a cross from the left flank.
However, in the 70th minute Wallamsuk Nongkhlaw trapped a shot from his team mate, spun around and smashed the ball into the net to give Smit the winner.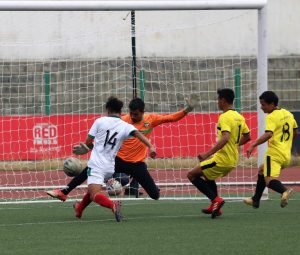 If the first quarterfinal was entertaining, the second was a thrilling fight in which Mawpat went two goals up only to see Umsning United charge back and level proceedings.
Mawpat secured the lead after some tussling near the goal line in the fourth minute through Defender Pyngrope and Tyngshain Marboh then doubled the lead with a header in the 17th minute.
Umsning Utd were playing well, however, and knew they could get back in the game if they scored in what was left of the first half and they did just that.
Oversharp Iawphniaw was fed a through ball in his own half and sprinted all the way into the Mawpat box. He expertly feinted to get past a defender and fired the ball, which kissed the upright before going in.
Mawpat were dealt a further blow when Kenstar Khonglam was sent off later on in the first half and Umsning United made that one-man advantage count in the second half when Kit Nonglait scored the equaliser in the 54th minute.
Both sides then struggled for the winner and it proved to be Marboh who secured the final goal in the 79th minute for Mawpat.
The second set of quarterfinals will be played at the Assam Regimental Centre tomorrow. At 10AM Kith United will take on Mawngap, while defending champions Assam Rifles Laitkor will face Ryntih at 1PM.
(Photos contributed by Assam Rifles. The featured photo is of Mawpat (blue) and Umsning United (yellow))