Shillong, May 24: East Khasi Hills (EKH) progressed to the finals of both the boys' and girls' divisions of the Chief Ministers' State Level U-12 Football Tournament after winning their respective semifinal contests handsomely here today.
Both finals will be held tomorrow at the JN Stadium. In the first, EKH will take on South West Khasi Hills (SWKH) in the girls' title match at 10AM, followed by the boys' final between EKH and Ri-Bhoi at 11:30AM.
Today EKH defeated SWKH in the second of the boys' semis 5-0, with Damangskhem Thabah producing a hat-trick, while Wanraplang Kharumnuid and Riborlang Lyngkhoi scored a goal each. Earlier, Ibanteiskhem Syngkli's 35th minute goal for Ri-Bhoi was enough to see them win 1-0 over West Khasi Hills (WKH).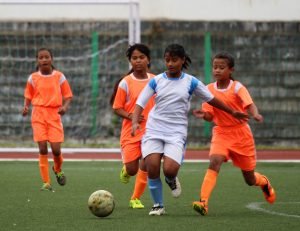 Over in the girls' division, EKH took out a three-goal lead over WKH following a brace from Usibia Kharkongor and a single goal by Bahunlang Synrem before the latter reduced the margin through Iwankahashwa Dkhar and the final score read 3-1 in EKH's favour.
In the other last-four fixture Fellysha Wahlang and Daiahunlang Syiemiong scored in SWKH's 2-0 victory over West Jaintia Hills.
(Photos contributed by the Directorate of Sports & Youth Affairs)