Shillong, Jun 17: The first full day of the inaugural Meghalaya Baby League (MBL) was a rousing success, with the children in all age groups involved in some lovely football throughout the 30 matches at the JN Sports Complex here yesterday.
The MBL 2018 is the joint initiative of Tata Trusts, the Meghalaya Football Association and All India Football Federation.
All 12 teams were involved in the action today at the three venues – Third Ground, the JN Stadium and the Futsal Ground.
Although certainly the rawest in terms of football skill, the boys and girls in the 4-5 and 6-7 age groups displayed excellent sporting spirit on the pitch and had perhaps the widest smiles on their faces whether they won or lost.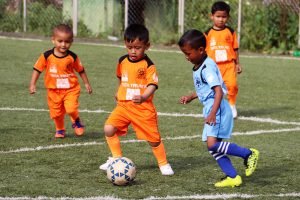 The skills on display improved as the age groups progressed, with the 12-13s producing some great football. All age groups were well-supported by friends and family, who thronged the venues cheering on the young players, which made the atmosphere all the more special.
The action began with the Western Conference where Langsning Greenergy Lions winning all of their five age-group matches against Kickstart Rhinos. Mawlatbah SC Hawks then won three matches against ENE Falcons in the youngest age categories before the latter bounced back to emerge victorious in the oldest two. Little Star Clouded Leopards, meanwhile, won four of five games while losing the other to Unified Gorkha Gators.
In the Eastern Conference Wahlahkhiat Bulls swept the JNS Jaguars by winning all of their five matches, while Touchline NE Cubs won two, drew two and lost one against Sunnydale School Doves. Nongthymmai GC Scorpions, meanwhile, claimed victory in four matches against Nongtrai Cheetahs while drawing once.
(Photos contributed by the Meghalaya Football Association. Featured photo has players of Unified Gorkha Gators (blue) against Little Star Clouded Leopards (white))