Shillong, Jul 10: Orestar Sad produced two stunning direct free-kick goals as Rangdajied United defeated Malki 4-0 in the U-18 Shillong Premier League here today.
The first half was far from convincing from Rangdajied, who missed several chances and hit the bar twice, and the deadlock remained in place at half time.
Sad's first goal in the 58th minute turned things around as he curled the free-kick from just outside of the box on the left into the net. He would then go on to score again in similar fashion in the 71st minute, this time from an even tighter angle, where he was able to find the target at the near post.
In between Sad's twin strikes, Armanki Kharkongor deftly headed in a cross from the right in the 66th minute. The last and final nail in the coffin was netted by Damebanbha Nongdhar, who trapped a cross in the 85th minute, took another couple of touches and then twisted the ball low past the goalkeeper's left.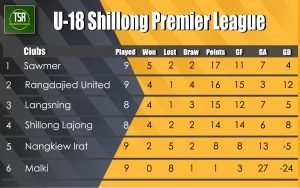 The win takes RUFC to second place with 16 points from nine games. They would've been in a far more comfortable position had they converted one or two of their four draws into wins; their defence has been admirable as they've kept seven clean sheets, conceding only three goals. However, producing goals has been a challenge; although they have scored the most goals out of the six competing teams, 10 of their 15 have come against bottom club Malki.
Tomorrow we'll have what should be a fascinating encounter between Langsning and Shillong Lajong. Langsning have already beaten Lajong this season, edging them 2-1 in the reverse fixture on 23rd June. Defeat again for SLFC would leave them incapable of making it to the top two. The match kicks off at 3:45PM.
(Photo contributed by Malki SC. Malki are in black, Rangdajied in blue)