Shillong, Jul 10: This year's edition of the Mawkyrwat Ultra, to be held on 27th October, is looking to promote one of Meghalaya's dying art forms – the traditional Khasi lock.
Typically, in well-organised marathons or ultra-marathon events, medals are given to each participant who completes the run. These medals are usually made in a factory and these medals will typically have the event logo and other information.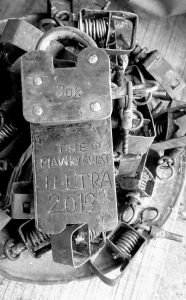 With the vision to also promote Meghalaya's traditional handicrafts, the Mawkyrwat Ultra is looking to award each finisher with a very unique handmade medal specially crafted for this event – the traditional Khasi lock.
Each lock is crafted from recycled metal sheets, umbrella struts or iron rods, which are folded and shaped into their respective sizes.
What is unique about this dying craft is that it originated here in Meghalaya and the remaining locksmiths who will be making the finisher medals hail from Laitlyngkot, a village on the Shillong-Pynursla highway.
The Khasi lock is a very good example of 'upcycling', which is taking recycled materials and crafting them to create something else that adds value to the waste materials. For example, the latch on the lock is made from waste iron rods, the spring from old umbrella struts, the lock casing from scrap metal and keys from scrap metal and nails.
In today's markets, goods from China have flooded shops as economies of scale allow Chinese goods, including locks, to be sold at prices far below similar, locally available goods.
The demand for handmade locks has thus declined and the art of lock-making is dying, with few craftsmen left to keep the skill alive.
One such locksmith is Dispi Kharbuli from Laitlyngkot village. Kharbuli was introduced to the Mawkyrwat Ultra organising committee by Michael Syiem, who has been trying to promote this art for some time. Kharbuli says he learnt the skill from his uncle, who had picked up the art from another family, which makes him a third generation locksmith.
It is unknown where or when this craft originated, however, Kharbuli estimates that this craft has been around from more than 100 years and has evolved over time with the advent of new tools and designs. Today there are only three families in Laitlyngkot who make these traditional handmade locks.
The organisers of the Mawkyrwat Ultra (MU) felt that it would be beneficial for the local economy to be given the task to produce locks as souvenirs. The MU finishers will also get something unique in being rewarded with something of value, which symbolises tradition and the history of the place where they have to come to run in.
(Text and photos contributed by Gerald Pde. You can find more information on the Mawkyrwat Ultra on its website here)