Shillong, Jul 21: Conditions were a little difficult today's Meghalaya Baby League (MBL) matches, with plenty of rain falling on Polo Ground, but that did not stop the children involved from having a wonderful time on the pitch.
There were some one-sided matches, to be sure, but also some really close and engaging contests. Despite the rain, parents, siblings and other supporters thronged the JN Stadium, Futsal Ground and Third Ground to watch the action.
The MBL 2018 is the joint initiative of Tata Trusts, the Meghalaya Football Association and All India Football Federation.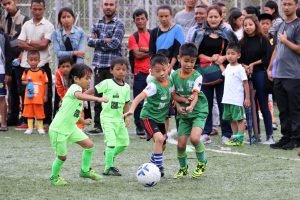 Langsning Greenergy Lions continued to shine today in their games against Little Star Clouded Leopards and even managed to win the appreciation of senior administration figures in the senior Langsning FC team who complimented the way the 4-5 and 6-7 age group players performed.
The Greenergy Lions won those two respective fixtures 5-0 and 2-0. The Clouded Leopards came close to at least getting a draw if not winning the match in the 8-9 age group, but Langsning Greenergy Lions squeaked through as 1-0 victors.
Interestingly, three of the 8-9 age group games ended with exactly the same scoreline – 5-2. The winners in these matches were JNS Jaguars (over Nongtrai Cheetahs), Nongthymmai GC Scorpions (over Sunnydale School Doves) and Touchline NE Cubs (over Wahlakhiat Bulls). However, the Cheetahs, Doves and Bulls all managed to win other matches, making it one of the most even days in the MBL we have had so far.
On the other hand, Kickstart FCC Rhinos swept Mawlatbah SC Hawks in four matches. Even so, the little Hawks have some of the best support of any of the teams, with plenty of family and friends coming up to Shillong to cheer on the team.
(Photos contributed by the Meghalaya Football Association. The featured photo is of Nongtrai Cheetahs (orange) and JNS Jaguars (yellow))