Shillong, Aug 5: Wahlakhiat Bulls ended Langsning Greenergy Lions' impressive unbeaten run in the Meghalaya Baby League (MBL) 2018 by winning three of the five games between the two sides yesterday.
It was the first inter-conference day in the MBL 2018, which is a joint initiative of Tata Trusts, the Meghalaya Football Association and All India Football Federation, where teams played those from the different conference (or group) that they are in.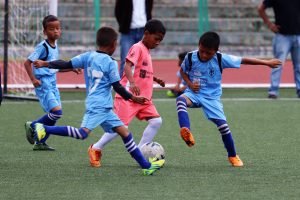 Twenty-five matches were held at three venues – Third Ground, the JN Stadium and the Futsal Ground – at the JN Sports Complex between 10 teams.
Sports and Youth Affairs Minister, Banteidor Lyngdoh, was present during the afternoon session and watched the children enjoying themselves in a few matches.
The Greenergy Lions are in the Western Conference, which they have completely dominated, while Wahlakhiat are in the Eastern Conference.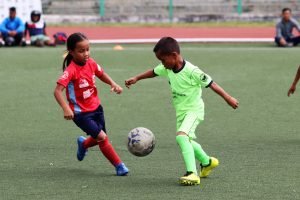 The Bulls won in all the youngest three age brackets, while Langsning then won in the 10-11 age group before drawing 1-1 in the 12-13 age group.
All teams had at least one victory on Saturday, so there was something to celebrate for each team.
ENE Falcons won four out of five matches against JNS Jaguars, with the latter victorious in the 8-9 category.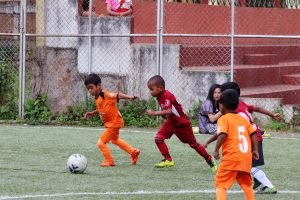 Nongtrai Cheetahs were victorious in the 4-5 and 6-7 age groups before their opponents, Kickstart FCC Rhinos, took the other three contests.
Little Star Clouded Leopards, meanwhile, were on track for a clean sweep against Sunnydale School Doves, having won four matches before the fifth saw the Doves come out as victors in a close 12-13 category match 1-0.
Finally, Nongthymmai GC Scorpions had a sting in their tail in the 4-5 and 6-7 age groups and won those matches, but Mawlatbah SC Hawks came back strong and were victorious in the other three age-group matches.
(Photos contributed by the Meghalaya Football Association. Sports & Youth Affairs Minister Banteidor Lyngdoh and Meghalaya Football President Larsing Ming Sawyan watch a match between Nongthymmai GC Scorpions (blue) vs Mawlatbah SC Hawks (pink))