Shillong, May 18: Maw-U-Tieng secured a place in the semifinals of the Shillong Sports Association's Women's League after winning their last Group B match at Third Ground, Polo, here today.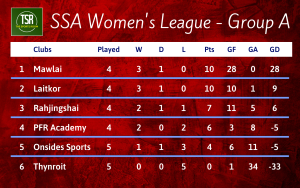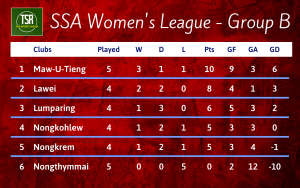 Up against Nongkohlew, Maw-U-Tieng won 1-0 thanks to a 42nd minute Lavinia Warjri goal.
Maw-U-Tieng now have 10 points and are at the top of the standings but could be overtaken by Lawei (8 points) when the latter play their last group fixture on Saturday.
Earlier, Onsides Sports blanked Thynroit 3-0 in Group A, with Makrisha Songthiang scoring a hat-trick. All three goals came in the second half (47′, 49′, 53′) of the hour-long match.
This match was inconsequential as far as the semifinals go but nevertheless was important for the two bottom teams. The win – their first – means that Onsides end in fifth place in Group A on 4 points, while Thynroit bow out without having registered a point.
After a day's gap, we will have the last round of Group A matches on Friday.
Friday's fixtures:
Women's League – Group A – Rahjingshai vs Mawlai, 1PM
Women's League – Group A – PFR Academy vs Laitkor, 3:30PM