Shillong, Aug 11: Touchline NE Cubs, Langsning Greenergy Lions, ENE Falcons and Kickstart FCC Rhinos were the big winners on the ninth match day of the Meghalaya Baby League (MBL) 2018 here yesterday.
As was the case last weekend, Saturday saw the MBL, which is a joint initiative of Tata Trusts, the Meghalaya Football Association and All India Football Federation, organise matches in an inter-conference format.
The Cubs won three of five age-group matches against Unified Gorkha Gators, though the latter did win the 12-13 year category game, which is their second win of the season so far. The other match between the two sides ended in a draw.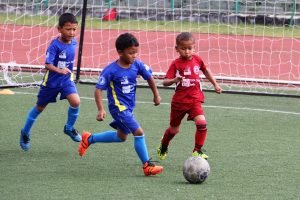 Meanwhile, the Greenergy Lions put aside last week's defeats to beat Wahlakhiat Bulls in four games, with the Bulls taking one. Last weekend Wahlakhiat inflicted the first defeats that Langsning has experienced in the MBL. This time around the Bulls won the 4-5 age group 1-0, but the standout match had to be the 8-9 year category, which saw the Greenergy Lions come from two goals down to win 3-2.
The Falcons also had a good day in the field, winning four of their matches against the JNS Jaguars, including a 15-goal thriller that they won 9-6. The Jaguars won in the 8-9 group 3-2.
And finally, the Rhinos also won four out of give games and all of these were clean sheets against Sunnydale School Doves. However, the Doves did score in the 6-7 year group and came out 5-2 victors.
(Photos contributed by the Meghalaya Football Association. The featured photo is of Langsning Greenergy Lions (red & blue) vs Wahlakhiat Bulls (green))