Shillong, Oct 12: Nongrim Hills came from a goal behind to beat Imson 2-1 and thus secure promotion to next season's Shillong Premier League on the last day of the First Division's league stage at the SSA Stadium here today.
Over at Third Ground Rising FC trounced Wahingdoh 6-0.
The matches were held (nearly) simultaneously as Rising, Nongrim and Imson all had a shot at reaching the SPL.
Prior to today Imson were in second place on 18 points, Nongrim third and Rising fourth. These last two sides both had 16 points, but Nongrim were in front on head-to-head basis after beating Rising 3-1 in July.
What Nongrim needed to progress was, therefore, victory over Imson. Imson also needed a win to be sure of being promoted because if their game ended in a draw and Rising had beaten Wahingdoh, Rising would have gone through as they had head-to-head advantage over Imson (3-1 was the result in Rising's favour last month).
Imson started by pulling off numerous shots, though almost none of these were on target. They almost looked like they were involved in a Sunday game between friends, while Nongrim looked hungrier for victory.
However, it was Imson who took the lead in the 42nd minute through Oversharp Iawphniaw, who had missed so many earlier chances with a smile on his face.
Imson almost held on for a narrow win but for a couple of quick goals by Samborlang Sohtun.
His first came in the 78th minute when Imson's goalkeeper and a defender bumped into each other while going for a Nongrim cross, which allowed Sohtun to tap the ball in.
With Nongrim on the up after the equaliser the match had completely turned around and Sohtun headed in a cross in the 80th minute for the winner.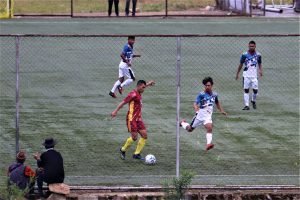 Over at Third Ground Rising's Batiphar Swer scored four goals (19′, 24′, 53′ and 59′), while Yangmin Khriam (36′) and Jerimon Shylla (43′) produced one apiece as Rising brushed aside bottom club Wahingdoh.
Laban and Nongrim Hills will now meet in the final, which, TSR has heard, will be on 27th October.
(TSR photos)