Shillong, Oct 13: Shillong Lajong ended reigning champions Langsning's 11-match unbeaten streak in the Shillong Premier League with a whopping 5-2 victory at the SSA Stadium here today.
With both sides already confirmed as the top two going into the playoffs there really wasn't anything much to fight for, except, that is, for pride. Langsning, though, fielded a largely second string team, though their forward line was still dangerous in that it contained Donborlang Nongkynrih, Donlad Diengdoh and Figo Syndai.
The win takes Lajong to top spot in the table for the first time since the first round of the first leg.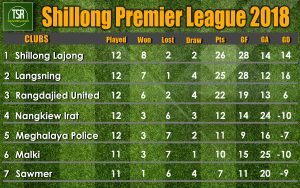 SLFC scored via Samuel Kynshi (17′), Bonison Nongmaithem (27′, 54′) and Mahesh Naorem Singh (71′, 72′).
Then came Langsning's two goals, scored by Nongkynrih (77′) and Defence Nongtdu (90′).
Prior to today Langsning had conceded just seven goals and no more than one in any match.
Lajong made their intentions of ruining those enviable statistics clear early on, but Sheen Sohktung was blocked by Langsning goalkeeper Eric Nongkhlaw in the 12th minute.
They didn't have to wait too long for the opening goal, however, as Lalawmpuia Hnamte chipped the ball forward for Kynshi, who timed his run nicely and beat Nongkhlaw for the goal.
The second goal came about through Sohktung, who made a run up the left, drew out Nongkhlaw and then passed the ball along the face of the goalmouth for Nongmaithem to tap in.
It wasn't as if Langsning didn't get their chances. Nongkynrih, Diengdoh and Syndai had all scored goals prior to today and they went pretty close in the first half. In the 19th minute Diengdoh headed a cross just over the horizontal and in the 31st newbie Cameo Lamare flicked a shot onto the upright. Diengdoh would then go agonisingly close again in the 40th minute, only denied by the fingertips of SLFC goalie Neithovilie Chalieu, who put the ball out for a corner.
Chalieu certainly would've been a man-of-the-match contender in TSR's books and he followed up his first half performance with a couple of excellent saves in the second.
Entering the second session 2-0 down Langsning had a high defensive line that left them open to Lajong attacks, with disastrous consequences.
Nongmaithem bagged his brace in the 54th minute when Mahesh chipped a ball foward for him. Although the Lajong No. 16 looked like he might have been offside, no signal was forthcoming from the linesman and he was allowed to saunter forward and smash the ball past the oncoming Langsning custodian.
Then came a quick couple of goals from Mahesh. The first was preceded by Nongkhlaw coming way out of the box to head a dangerous ball, but it only went as far as Mahesh, who chipped it over the goalie for the fourth Lajong goal. A minute later he scored again, aiming the ball low past Nongkhlaw after a nice run, with Hnamte again providing an assist.
Five-nil it was, but Langsning pressed on and Nongkynrih found a goal in the 77th minute when he chipped on from just inside the box past Chalieu. Then, in the last minute of normal time, Nongkynrih made a short past to Nongtdu, who swivelled round and fired in a delicious curling shot from around the same place that his team mate had scored from earlier.
The final league stage match will be played on Monday between Sawmer and Malki at 4PM. Besides these two teams Nangkiew Irat and Meghalaya Police will both be keeping a keen eye on the game. Sawmer can't escape relegation, while Malki need a point from the match to avoid the drop themselves and if they win they'll also take fourth from Nangkiew.
(TSR photo. Shillong Lajong are in red, Langsning in white)