Shillong, Oct 18: Shillong Lajong suffered their heaviest defeat this season as reigning champions Langsning sailed past them and straight into the Shillong Premier League final with a 3-0 victory at the JN Stadium here today.
Kitboklang Pale (35′), Ebormi Buam (42′) and Kynsaibor Lhuid (76′) provided the goals that saw Langsning win the 1st Qualifier. This was only the second time that Lajong did not score in 13 SPL matches this season.
The opening half an hour's play was extremely nervy and tentative from both sides, but some entertainment was provided for the fans when the fourth official realised that he didn't have his substitution board with him when Langsning wanted to take off Figo Syndai in place of Lhuid.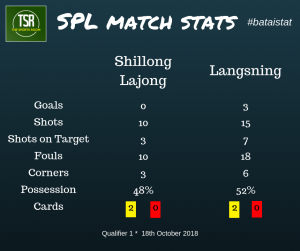 Lhuid overran the ball in what should've been an easy goal off a Pale cross in the 32nd minute, but his introduction definitely changed the game as the No. 20 brought plenty of energy into Langsning's attack.
A few minutes later Pale bagged the opener himself from the right flank, getting his left-footer on target low past Lajong goalkeeper Phurba Tempa Lachenpa after being fed a forward ball by Buam. This was the first time in six matches that Lajong conceded a goal in the first half.
Langsning would then go 2-0 up before the break when Buam headed in one of Langsning's four corners in the first half. The corner kick was taken by Pale.
After not having much to do in the first half Langsning goalkeeper Frolicson Dkhar was called on in the second on a couple of occasions, making a good block off Sheen Sohktung in the 60th minute and then a fantastic save off a Samuel Lalmuanpuia free-kick in the 72nd minute.
Then came the final goal of an impressive Langsning performance when Brolington Warlarpih sent in a long ball Lhuid's way. Though he was harried by Habymmutshuh Nongrum and Aiban Dohling, he managed to get past the latter and the squeeze the ball through the legs of Dohling for the goal.
Langsning have now beaten Lajong twice this season, the other victory (3-1) having come in the first leg on 18th August. Lajong had recently got the better of a second string Langsning 5-2 on 13th October.
Rangdajied United and Malki will now face off in the Eliminator match on Saturday at 2PM. Whoever wins that game will play SLFC for a place in the final with Langsning.
(TSR photo. Shillong Lajong are in red, Langsning in white, Langsning's goalkeeper in black)