Shillong, Dec 12: The first edition of the Shillong Cage Fighting Championship (SCFC), a mixed martial arts (MMA) event, was held last week with more than 20 fights entertaining the spectators at the Laban Indoor Stadium here.
SCFC had fighters from all over India as well as one from Australia. Headlining the main event was Johnny Nongrum of Happy Red Rooster MMA/NJK MMA, who ended his bout against Jagjeet Singh of 4C Mumbai with a vicious knockout.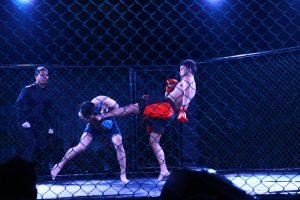 Lachlan Conway of Australia and Anthony Syiem of Ground and Pound MMA, Nongpoh met in a Super Fight, with Conway ending the bout with a straight-ankle-lock victory. Conway is now the first title holder of the Super Fight division in the SCFC. Conway has had over 400 fights and has won many international titles, while Syiem is a young, up-and-coming MMA fighter whose more famous victories include wins at the All India Mixed Martial Arts Nationals and an unbeaten record in Reebok Fight Nights.
Of the eight women who took part, two featured in the co-Main Event – Laishram Surbala Devi of Manipur (Kangleipak MMA) and Lalvenhimi of Mizoram (Team SPES). Lalvenhimi took home the win in a display of sharp technical prowess and a brilliant fight IQ. Devi is a national kickboxing champion while Lalvenhimi is well known for several victories in the All India Mixed Martial Arts Nationals.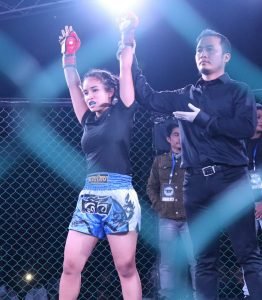 Closer to home, team Happy Red Rooster MMA, led by coaches Isaiah Kharmawphlang, Reuben LC Lulam and Frankystar Momin, fielded six fighters – Echwamida-o Phawa, Ronald Khyriem, Bennyson Rangat, Balajied Ryntathiang, Reform Marwein and headliner Johnny Nongrum. The team had a clean sweep with all six fighters emerging victorious.
Ground and Pound MMA, Nongpoh, led by coach Kores Marwein, brought in four fighters, winning three of the four bouts they fought.
During the proceedings officials present at SCFC chose the platform to announce the re-formation of the North East Mixed Martial Arts Association, with Ibalawan Rumnong as President.
(Photos contributed)