Shillong, Jan 11: Shillong Lajong's U-18 team departed for Goa yesterday to take part in the Elite League (formerly the U-18 Youth League) playoffs. Their first match will be on 16th January.
The defending champions made it to the playoffs after finishing second in the Shillong-Guwahati group during the zonal round. Sports Authority of India Guwahati have advanced straight to the final round after topping the group. Langsning finished third in their first season of the competition, while Gauhati Town Club were fourth and NorthEast United fifth and last.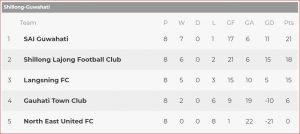 Lajong were unbeaten last season and conceded just three goals on their way to lifting the trophy in May, but this season has been tougher, with plenty of their winning side from 2017-18 now in the senior team.
Their season got off on the wrong foot when they were beaten by debutants Langsning 1-0 on 22nd October. Lajong were, however, able to get the better of Langsning in the reverse fixture when they won 4-1 on 19th November.
Lajong's other defeat came at the hands of SAI Guwahati, who beat them in Guwahati 2-1 on 3rd December. This came after the group toppers lost their only game, to SLFC, 1-0 on 30th October in Shillong.
For the playoffs Lajong have been grouped with Aizawl, Jamshedpur, Raman Vijayan Soccer School and Kerala Blasters (who were runners-up last season to the Reds).
Aizawl, Jamshedpur and the Blasters had all topped their respective zonal groups and were undefeated as well. However, as these groups had fewer teams (with consequently fewer matches) they will have to go through the playoffs if they want to make it to the final round. Raman Vijayan, for their part, were runners-up in the Chennai group.
Shillong Lajong fixtures:
vs Aizawl, 16th January, 9AM, Goa
vs Jamshedpur, 18th January, 9AM, Goa
vs Kerala Blasters, 22nd January, 9AM, Goa
vs Raman Vijayan Soccer School, 24th January, 3PM, Goa
Shillong Lajong squad:
Freestar Kharbangar, Thongram Santosh Singh, Donboklang Lyngdoh, Rajat Paul Lyngdoh, Apborlang Kurbah, Baiaikara Swer, Kitboklang Khyriem, Bishal Lama, Muhammed Safique Ahmed, Naoroibam Romen Singh, Habymmutshuh Nongrum, C Vanlalhriata, Denzil Gorby Warjri, Aman Ahlawat, Solomon Mangte, Batskhemlang Thangkhiew, Aenam Graffenberg Jyrwa, Remark Kharmalki, Parvaj Bhuiya, Maxderidoff Wahlang
(Photo contributed by Shillong Lajong FC)