Shillong, Mar 11: Malki SC have been banned for a period of one year from the Shillong Premier League because of post-match violence that followed their defeat in SPL 2018's Eliminator match against Rangdajied United.
The news reached TSR yesterday evening that the decision to ban the club was taken by a special committee comprising members of the Shillong Sports Association and Meghalaya Football Association.
To recap, a few questionable decisions by the referee and one definitely incorrect one led to an angry spectator rushing onto the track that surrounds the JN Stadium pitch and assaulting referee KJP Wahlang. A few other spectators followed but were expelled back into the stands. However, several others tried to break their way through the gate and at least one MFA official was punched in the face as missiles were hurled onto the ground.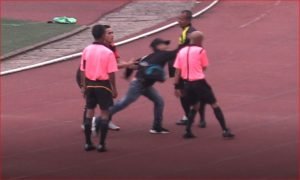 The decision means that Malki will have to miss SPL 2019. However, if they want to participate in 2020's edition of the tournament, they will be forced to first pay a fine of Rs 5 lakh, 10% of which will go to Wahlang and the remaining 90% into a referees fund.
If Malki refuse to pay the fine, they will rejoin local football through the SSA's lowest division, which could be the Fourth Division (if that is introduced this year as planned).
Admittedly, as far as TSR could tell, no Malki players or officials were involved in the violence. In fact, they put themselves in harm's way to protect the referee and tried to bring the violence to an end as quickly as possible, though we don't know if this was considered by the committee in reaching its judgement.
Other referees who TSR spoke to in the days that followed also questioned why the SSA had designated Wahlang to be the main referee in such a high-profile game as he had only been an assistant up until that point.
Security at a match is also the responsibility of the SSA, but there isn't any in the SPL and we raised that point in a recent article.
Perhaps the committee also took into consideration what TSR dubbed 'Malkigate', the farce surrounding Malki, Boys Sports Company, Meghalaya Police and the SSA that marred SPL 2017. On that occasion the fans took out their frustrations on sponsor branding outside the SSA Stadium.
Now it remains to be seen what course of action Malki pursues. In 2017 they threatened legal action. Hold on to your hats.