The Shillong 10K (10km) race will be the first chip-timed event in Shillong and gives runners a chance to experience various facets of the Shillong landscape, including important sites, flat roads, uphills and downhills and a little bit of forest trails in one of Shillong's best kept secrets, the Motinagar-Malki forest trails.
So, what is the history of the Shillong 10K? Habari Warjri from organiser RunMeghalaya explains:
In the spring of 2018, a group of passionate runners thought it would be a great initiative to have a fun run for children every Saturday. The distance was set at five kilometres.
The venue was the Mawroh forest trails because it is so refreshing to be surrounded by nature. Word got out; posters were printed and distributed in schools and around prominent places in the city.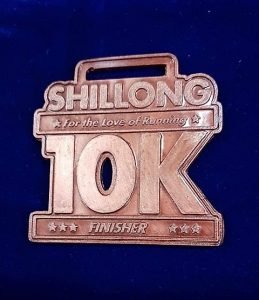 Every week, if a runner beat their own timing from the previous week, they got a medal. The fun run was so much fun that by the fifth week we had more than 100 participants! But, unfortunately, the day before we were to have the last run before the monsoon, violence erupted in the heart of Shillong. Due to safety reasons we had to cancel the run. It was a big disappointment.
Hence was born the idea of the Shillong 10K – where everyone in the city runs! Every citizen of Shillong could participate in this run. So, we could all run together for peace, for harmony, for good health and for happiness!
1) For beginner runners: Come see what running is all about, you will find out what fun it is! Especially when you run as a group.
2) For amateur runners: Come and beat your best 10km timing and earn a timing certificate that you can use to register for any race in India or abroad. Everyone gets a chip and their timing is recorded and this lasts FOREVER.
3) For professional runners: There is good prize money!!!
Besides a t-shirt EVERY finisher gets an awesome medal! Look at the face of this little girl who got her first medal at the Fun Run!!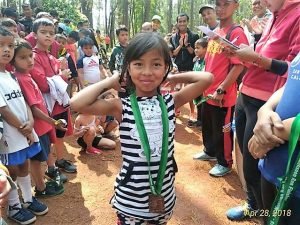 The race will be held on 6th April. Registrations close on 31st March. For more details visit the race website here.
(Featured photo by TSR, others by Habari Warjri/RunMeghalaya)