Shillong, Jun 9: The 15th Junior & Sub-Junior Swimming Championship, organised by the Meghalaya Swimming Association, saw the participation of 80 swimmers from several parts of the state in the two-day event, which concluded here yesterday.
The competition's highlight for the organisers was the emergence of strong female swimmers from villages who gave those from Shillong a tough challenge.
Swimmers from Shella and Shillong swimming club True North won most of the medals.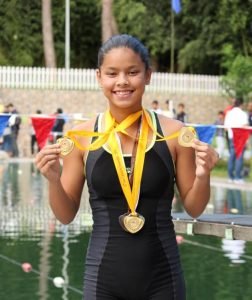 The Best Swimmers among the boys were Banraplang Marbaniang, Cleric Jayden Wanniang, Ebers Winston Kharbani and Liam R Diengdoh. The Best Swimmers among the girls were Trisha Jalewa, Yowandaphi Najiar, Alyzza M Lyngdoh and Badapjingkyrmen Thongni.
Boys' winners:
Group 1 (15-17 years)
Banraplang Marbaniang – freestyle 50m
Ethaniel Laloo – butterfly 50m
Ethaniel Laloo – breaststroke 50m
Banraplang Marbaniang – freestyle 100m
Banraplang Marbaniang – backstroke 50m
Banraplang Marbaniang, Bhakupar Ora, Selibet Mawa, Bapynshngain Syngwan – 4x50m freestyle relay
Group 2 (13-14 years)
Cleric Jaden Wanniang – Breaststroke 100m
Banpynshngain Syngwan – Freestyle 100m
Bhalang Ora – breaststroke 50m
Cleric Jaden Wanniang – butterfly 50m
Cleric Jaden Wanniang – backstroke 50m
Banpynshngain Syngwan – freestyle 50m
Banpynshngain Syngwan, Ryan Youroi, Bhalang Ora, Pynbhalang Syngwan – 4x50m freestyle relay
Group 3 (11-12 years)
Shaun Diengdoh – butterfly 50m
Ebers Winston Kharbani – breaststroke 50m
Ebers Winston Kharbani – freestyle 50m
Group 4 (9-10 years)
Aaron Kindo Blah – breaststroke 50m
Liam R Diengdoh – freestyle 50m
Liam R Diengdoh – backstroke 50m
Group 5 (7-8)
Kian Peter Pde – freestyle 50m
Girls' winners:
Group 1 (15-17 years)
Badapjingkyrmen Thongni – freestyle 50m
Badapjingkyrmen Thongni – backstroke 50m
Badapjingkyrmen Thongni – breakstroke 50m
Group 2 (13-14 years)
Phisabet Snaitang – breaststroke 50m
Alyzza M Lyngdoh – freestyle 100m
Marysuklin Marbaniang – freestyle 50m
Alyzza M Lyngdoh – butterfly 50m
Tisya Manhas – breaststroke 100m
Tisya Manhas – backstroke 50m
Group 3 (11-12 years)
Yowandaphi Najiar – freestyle 50m
Yowandaphi Najiar – breaststroke 50m
Yowandaphi Najiar – backstroke 50m
Group 4 (9-10 years)
Trisha Jalewa – backstroke 50m
Trisha Jalewa – breaststroke 50m
Kitilawei Syiemiong – freestyle 50m
Trisha Jalewa – butterfly 50m
Group 5 (7-8 years)
Naomi Pde – freestyle 50m
(Featured photo contributed by the Meghalaya Swimming Association)