Shillong, Aug 12: Riatsamthiah garnered their first win of the Second Division season, defeating neighbouring rivals Wahingdoh 3-1 at Third Ground, Polo, today.
Bony Lyngdoh put Riatsamthiah into the lead in only the second minute but Michael Kshiar equalised in the 21st.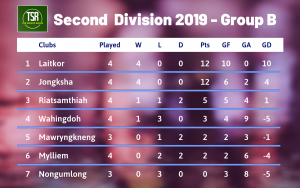 Wahingdoh pressed further, with Rahbok Synnah and Pynkhambor Suting coming close.
The second half, though, saw the game swing Riatsamthiah's way, with Cleaning L Marshillong (52') and Banshan Marsharing (77') scoring to give Riatsamthiah their first win and move them to third in Group B with five points.
There will be no Second Division matches until 16th August when Sohiong are scheduled to face Laitumkhrah at 3:15PM in Group A.
(TSR photo. Riatsamthiah are in orange, Wahingdoh in yellow)