Shillong, Aug 24: Nongumlong and Riatsamthiah were involved in a 3-3 draw in Group B of the Second Division at Third Ground, Polo, today.
Terence Jyrwa gave Riatsamthiah a second minute lead, but Nongumlong stormed back with goals from T Marwein (25′) and M Mylliemngap (28′).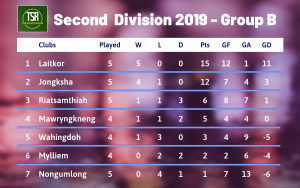 Nongumlong then went 3-1 up with a second goal by Mylliemngap in the 64th minute, but Riatsamthiah clawed their way back thanks to goals from Gregorius Buam (66′) and Newyearlyborn Diengngan (89′).
Despite losing out on victory, Nongumlong do take home their first point of the season.
On Monday, in Group A, Sohiong are scheduled to face Laitkyrhong.