Shillong, Aug 27: Mawryngkneng came through as 2-1 victors over Wahingdoh in their Group B Second Division match at Third Ground, Polo, today.
All three goals came in the second half with B Mynsong providing Mawryngkneng with a brace (68′, 82′) before Shemborlang Kharumnuid pulled one back for Wahingdoh in the 88th minute.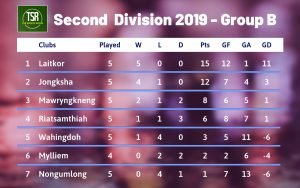 Mawryngkneng thus move above Riatsamthiah in the points table with eight compared to six. Wahingdoh remain in fifth place with three points.
Tomorrow, in Group A, Nongthymmai are scheduled to face Lumshyiap at 3:15PM.