Shillong, Sep 3: Mawryngkneng beat Laitkor 4-3 in a goal fest of a match in the Second Division Group B at Third Ground, Polo, today.
Laitkor had already booked their place in the semifinals by topping the group, while Mawryngkneng were confirmed in third place no matter what happened today.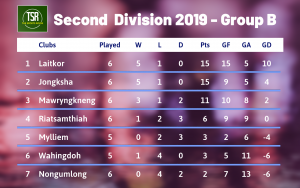 It was still a well-contested game with Mawryngkneng taking a 3-0 lead thanks to goals from A Mukhim (30′, 58′) and B Mynsong (53′) before Laitkor shot back through S Kharkongor (59′), R Malngiang (81′) and D Wanshong (87′). M Kharsati then found the winner for Mawryngkneng in the 90th minute.
Tomorrow, in Group A, Lumshyiap are scheduled to face Laitkyrhong at 3PM.