Shillong, Sep 29: After a protracted break to allow for the Meghalaya senior men's team to take part in the Santosh Trophy North East qualifiers (from where Meghalaya secured a berth in the final round), the Shillong Premier League will recommence on Monday between Nangkiew Irat and Ryntih at 3:15PM.
We are one-third of the way through the season, with each team having eight games still to play.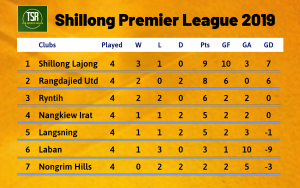 Three-time champions Shillong Lajong are at the top of the standings after four rounds with nine points.
Their campaign didn't get off to the best start, with an historic 2-1 loss to Nangkiew Irat before they went behind against newbies Nongrim Hills in the second match. However, they were able to turn it around against the latter and win 3-1 before going on to defeat Laban 4-0 and defending champions Langsning 2-0 without conceding a goal.
Second-placed Rangdajied United are the only unbeaten club remaining but could have done more.
Apart from their 5-0 hammering of woeful Laban the 2013 champions have scored just one other goal – a penalty that won them the game against Ryntih. They didn't look all that convincing in that match and certainly not in the goalless draws against Nongrim and Nangkiew.
Langsning, though, are the team that have the most to be disappointed about. They began with a 1-0 victory over Ryntih and their passing up front only looked better from then on. However, goals have been hard to come by and their defence has only been ordinary.
Weakened in the pre-season with plenty of players moving to other clubs, Langsning's strategy might well be to try and score more goals through their strong line-up of forwards – Kitboklang Pale, Kynsaibor Lhuid and Figo Syndai – than they concede. That could work (it did for Chennai City in the I-League last year) but they need their forwards to start finding the back of the net more often.
Ryntih, meanwhile, will also be a little disappointed with the way their start to 2019 has begun. A new team to the SPL, they won an auction for a vacant spot and roped in plenty of top quality players for their campaign. They have also had, by far, the best support in the stadium, with thousands of fans turning up each match, which has been a breath of fresh air for a competition that has only seen a decline in spectators over the years.
All of Ryntih's matches have ended 1-0 – two in their favour (against Laban and Nongrim) and two against (versus Langsning and Rangdajied) – and their excellent players need to start justifying the support of their passionate fans.
Nangkiew are currently ahead of Langsning on goal difference but look in danger of slipping behind. Apart from their 2-1 victory over Lajong (their first win against them in the SPL since 2014) Nangkiew haven't scored a goal in any of their next three games and that cost them big time when they went down to Laban 1-0.
Finally, when it comes to the two sides who gained promotion from the First Division, expectations aren't that high from Nongrim Hills, who have picked up two points through draws against Rangdajied and Langsning but are still looking for their first victory.
Laban, meanwhile, would've had bigger expectations, with an outside sponsor bringing in a new coaching team and players from outside the state. Their campaign began disastrously, however, with three straight defeats. Many of their non-local players looked like terrible signings and they only managed victory over Nangkiew by ditching almost all of them, other than goalkeeper Bisu Jana, Nitesh Monde and Asito Krose, and bringing back the core players who won them the First Division last year. They still weren't fantastic, but they might get better and their victory on Sunday in the final of the Bodoland Gallants Gold Cup should give a boost to their confidence.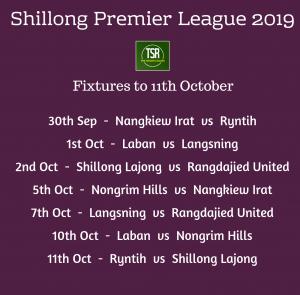 (TSR file photo)