Shillong, Oct 27: It was looking very good for Rangdajied United in the Shillong Premier League as they went into the second leg of the season leading at the top of the table by one point over Shillong Lajong.
That situation only improved after they hammered sister side Nangkiew Irat 5-1 on 12th October and played out a 1-1 draw with Lajong five days later.
However, a desultory goalless draw against Ryntih and Lajong's 6-0 hammering of Laban this past week have given Lajong the impetus to aim for a fourth SPL title and they seem like the team hungriest of all to win the trophy.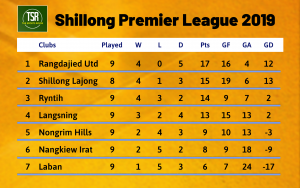 Look at the points table now and the advantage is with Lajong, who are two points behind Rangdajied but with a game in hand.
Unbeaten after three-quarters of the season, Rangdajied should have been able to start preparing to celebrate as champions, but five of their matches have been draws. What's really striking is that RUFC didn't score in four of those games, whereas Lajong have not scored in just one match – against Rangdajied in the first leg.
SLFC always look switched on and hungry for goals. Unfortunately the same can't be said of Rangdajied and the 0-0 result against Ryntih was a total disappointment.
Rangdajied need to bear down and win all three of their remaining matches and hope that Lajong drop points somewhere along the way.
This coming week Rangdajied will be seen in action on Tuesday against Laban – a match they should win. Lajong will play two games – against Nongrim Hills on Monday and Nangkiew Irat on Saturday.
Nangkiew beat Lajong 2-1 in a memorable match-up on 22nd August but that is unlikely to be repeated this time around, with Nangkiew having lost their way (and their last four outings) big time. They are now in the relegation zone, keeping bottom side Laban company.
Nangkiew, though, are still within touching distance of Nongrim, who also haven't had the best start to the second leg, garnering just one point from three matches.
That solitary point came against Laban and Nongrim must have been kicking themselves for not beating the worst side in the SPL. They then took the lead against Langsning but saw that overturned in the last 10 minutes of the engaging contest as their strength appeared to flag towards the end.
Happiest of all (or at least greatly relieved) should be defending champions Langsning. They finished the first leg with just four goals scored in six games and in the drop zone but have scored 11 goals in their next three matches and picked up seven welcome points to move them up to fourth spot.
Langsning suffered two defeats in the first leg, to Rangdajied and Lajong, and neither side can take Langsning lightly now. Defensively they are still vulnerable, but they have finally found a way to score goals and they aren't too dependent on any one player to provide them, with nine different Langsning players finding the back of the net this season.
In contrast third-placed Ryntih have relied largely on Sheen Sohktung for goals; he's scored five of their nine this season, though the introduction of Manbha Iawphniaw has also been a positive one for them and lends the team an extra attacking force.
Like Langsning, Ryntih have also earned seven points in their three second leg fixtures and have moved from fifth at the halfway stage of the season to third in the standings now.
They have a big match this week against Langsning on Thursday and Ryntih will want to make up for losing 1-0 to them in the first leg.
Fixtures for 28th Oct to 2nd Nov (kick-off at 2:45PM):
Monday – Shillong Lajong vs Nongrim Hills
Tuesday – Rangdajied United vs Laban
Thursday – Ryntih vs Langsning
Saturday – Nangkiew Irat vs Shillong Lajong
(TSR file photo)