Shillong, May 31: Defending champions Shillong Lajong leapt into first place in Group C of the Meghalaya State League 2023 after defeating Mawten 5-1 at the MDSA Ground in Mawkyrwat today.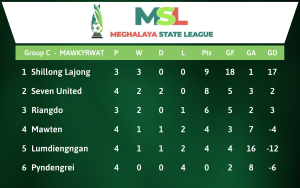 The day's other fixture was between Group B bottom sides Sein Pynbhalang and Youth Club Pdengkarong, which the latter won 4-1 at the Kiang Nangbah Stadium in Jowai.
This was Lajong's third match in MSL 2023 and, with a full 9 points, they overtook Seven United in the race to qualify for the semifinals from Group C; Seven United currently have 8 points from four outings.
Babysunday Marngar registered a second minute goal but Mawten found a way back in the 21st via Oversharp Iawphniaw; incidentally, this was the first goal that Lajong have conceded in the competition this season. Soon after, however, SLFC had the lead back in their hands thanks to Hamedamanbha Wahlang (23′) and a second goal by Marngar (37′) saw Lajong go into the break leading 3-1.
Hardy Cliff Nongbri (76′, 90'+2) then scored a brace of his own in the second  half to give Lajong another convincing victory.
In Jowai, though the contest was not significant in the fight for first place, both Pdengkarong and Sein Pynbhalang gave it their all on the pitch and delivered a highly entertaining clash.
Wanbor Langshiang picked up a brace, scoring in the fourth and 40th minutes for Pdengkarong and his team mate Kindness Mukhim did the same in the 17th and 77th. Paiabanteiskhem Bhoi (33′) netted Sein Pynbhalang's only goal.
Mukhim had a very busy match, hitting the crossbar on one occasion and making the opposition goalkeeper, Rishanki Syngkon, into making several saves. In the 40th minute it was he, with the outside of the boot, who flicked the ball past the charging goalie but it hit the upright. The rebound was going away from Langshiang but he stuck out his right leg and, almost horizontally, made enough contact to get it over the line for what was possibly the most entertaining goal of the contest.
Tomorrow's fixtures:
Group A, Shillong – Umkseh vs Umrit, 3PM
Group B, Jowai – Mulait United vs Rymbai Iawpynsing, 2:30PM
Group C, Mawkyrwat – No matches scheduled
Group D, Tura – Atong Matgrik vs Selsella Sports Association, 3PM
(Meghalaya Football Association file photo of Shillong Lajong's Babysunday Marngar)